"I'm very careful to listen to people's viewpoint, demonstrate that I have my team's best interests at heart and that's aligned with corporate strategy"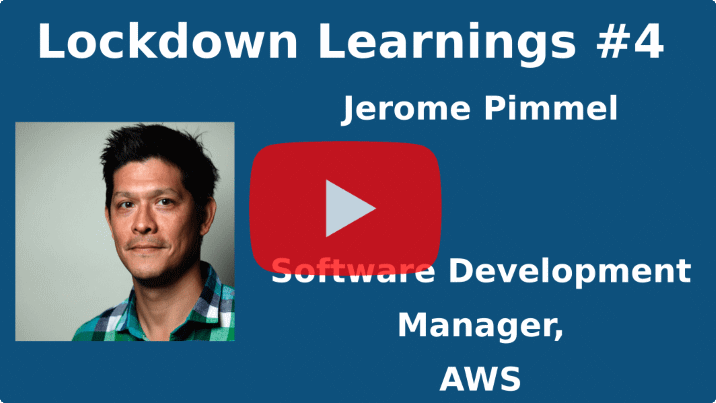 Highlights Transcript;
Question 1: What did you want to be growing up?
I don't have a good answer to that question. I was not a career-minded individual and maybe I'm still not super career minded to be honest.
Question 2: Why did you get into tech?
The honest truth is it's the only thing I knew how to do. Because I didn't go to university or anything like that, I learned everything myself. When I was 7 or 8 I started with Commodore 64, which is going to age me a lot but I just tried to write games. I didn't really take a lot of time to understand things, I just copied them out of magazines, as you did in those days. Then I just carried on endlessly tinkering with programming languages and pieces of computers and messing around and seeing what it took to break them and fix them and eventually I read some books and learned about it.
Question 3: Describe your lockdown experience in one sentence.
Surreal and sort of like an artificial concoction of what it is to live life. It's a strange way of living one's life for a long period. I mean it's a statement of fact but I can't really frame it in another way it's hard to describe.
Question 4: What's your biggest challenge during lockdown?
It depends on what dimension, so work is a challenge now, I think it's more of a challenge than it used to be because of the competing demands and I just joined a brand new team, virtually, during lockdown so I've not met my manager or any of my teammates, we chatted online obviously with videos and stuff. But you know usually you make the extra effort when you join a new team or organisation, to get face time and spend time working closely with your colleagues and peers because you need that to support you and understand what's going on. So work is challenging for those sort of reasons and then home life is also challenging but it's manageable except you know kids are demanding when they're under 10.
Question 5: What are you learning about yourself?
I'm learning that you can get a lot done remotely, I mean I've always worked remotely with my teams, now and then but it's never been like a full time arrangement and I'm aware of the fact that it's very possible to do it now. I think it's going to lead to some significant changes in how we work ultimately. I think I've also learned that I don't like working from home.
Question 6: What are the key attributes of senior tech leaders?
I guess for me, what's made me successful with my teams is the best way I can relate this. I'm very careful to listen to people's viewpoints, very careful to make sure that I'm working with all the different team members at the different levels of engagement that they require and that I'm demonstrating through my actions that I have their best interests at heart while I do my best to marry their interests with the interests of the business. And if I do those 3 things, as well as I can, in relation to how I work with my team, that makes me a successful leader from the point of view of my team. Then from the point of view of my leaders it's really just about transparency and visibility as well as accuracy and detail.
Question 7: How do you influence the people around you?
What we're encouraged to do and what I find works is, you know it isn't just that famous saying "Don't bring problems, bring solutions" but it kind of comes down to that really. I look at my team and I say "You're advising me, I know we have problems, so how are we going to solve it?" They table some solutions in front of me and we can talk about the merits of each and they can make a recommendation, by and large, we'll do that. So when we bring that up another level or two and it kind of works the same way although the language may be more terse and the focus may be more business. In the end, it's all about demonstrating that you've really got control of the situation, you know what course you're charting, you know more or less how long it's going to take you to get there. When your leadership and yourself are confident in that, that's where the influence derives because having demonstrated that they can place trust in you.
Question 8: How do you make the tough decisions?
Any of those one-way door decisions, the ones that are the hardest to make, in that situation really what I found is, making sure you've turned over every rock that there is to be turned over, because under the gaze of scrutiny you can't be seen not to do that, and then when you've done that you know the right thing to do is to make the best case and see if that works with everybody. I think in the end you have to all agree with those situations, that you're making a decision collectively as a group.
Question 9: What's the biggest challenge facing tech teams post-lockdown?
The absence of that social component will persist, I think, or at least it will be completely altered for a time. I think that will be very hard because people are going to want to let life carry on as normal but it's not going to be possible for it to play out quite that way.
Question 10: What's been your best work-related decision?
The best decision I ever made was to just kind of do something that I didn't feel completely comfortable with. In that particular situation, it was to join this company. It's kind of emblematic of things I've done in my career which are like you know, whenever there is something you are not comfortable about, just test the waters because you know, it may not be the bad thing you thought it would be.
Question 11: And the worst?
There was one particular person who 6 or 7 years ago I hired. It wasn't about the person, it was about the process I put into place or the absence of a thorough process and the outcome that came of this person joining the team and eventually me having to let that person go. The whole story was painful because once the person was in the company and I could immediately see that they were struggling, I could see where this was going and I felt the guilt of "why did I let this hire happen?", I should have stopped it before it was even started. That set me on a course since that time to really improve everything that I can about what it means to hire somebody.
Question 12: What's one thing you'd like someone to take from this interview?
You don't have to set out to be a leader in life to be a successful leader.
Question 13: What's the first thing you plan to do after the lockdown?
I don't need for anything too grand I just want a little bit of normal life again just to return and then I think I'll be grateful that we're seeing that happen.
Jerome's Recommended Book
Hiring Geeks That Fit by Johanna Rothman
Thank you to Jerome and all our wonderful guests.
Full length version of this and all other interviews is available to "Existing Members".
If you'd like to join CTO Academy and get access to these interviews, our management skills courses and more, sign up via "New Members".