"Share a journey and make people feel truly a part of sharing a vision"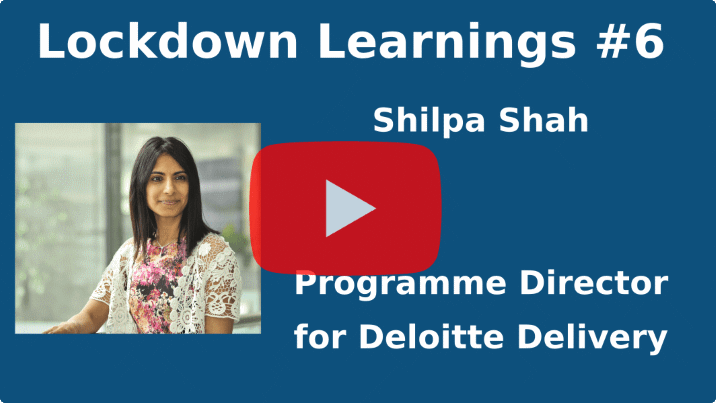 Highlights Transcript;
Question 1: What did you want to be when you were younger?
Always had this vision working in a really big office with this secret elevator which will take me to the top floor where I could come up with all sorts of crazy, new, wacky solutions that we're gonna make the world a better place. I knew I always wanted to do something that involves solving problems and using technology for good.
Question 2: Why did you get into tech?
My Dad was a driving instructor and he had this student at the University when the Commodore 64 came out and I think my Dad had this sort of foresight that this world of computing was going to be big so he asked his student to teach me to program, I was probably about 8 at that time. And that's where I started falling in love with the problem solving aspect and understanding more about technology. I have always loved maths as well from a very early age, so the maths and problem solving capability coming together absolutely sparked my curiosity then wondering how this was going to transform and impact the world
Question 3: What's the biggest challenge you're facing during lockdown?
If I rewind to first when lockdown happened, the first couple of weeks were definitely tough and I think if I am reflecting on what I am still feeling is the biggest challenge that kind of separation, from work and home. Given that everybody now or who is now able to work from home is working from home, I am personally finding that switching off is a lot harder to do than when we have the kind of physical commute to shift between office space and coming home. That has been a personal challenge that I have been trying to overcome.
Question 4: What aren't you worrying about?
I think I had been worrying for example, I am a mother of 14 and 12 year old girls and I have been worrying how they were going to be coping with missing their friends and how school was going to work?
Luckily that turned out quite ok and they are able to have more lessons and they seem to be coping well from a mental state perspective and then again thanks to the technology that they are able to stay connected with friends and family. That has been one of my biggest concerns and you know also about how we will be able to continue with some of the work that started pre lockdown, but luckily we are still able to do that so those two things I stopped worrying about right now.
Question 5: What are you learning about yourself?
I am learning that I am finding it hard to switch off but luckily my husband who I also live with, is a behavioral optometrist and he keeps me really grounded. He shares very valuable tips for making sure that I am not spending the whole day on back to back video conference calls, not getting enough exercise, staying hydrated and moving around. So I think I am learning that and you know when you are focusing on solving problems, you could just be so focused that you forget to do the basic things that we all should be doing to look after our wellbeing and mental health. I found that tougher than I first thought it was going to be. But I am also learning that I am able to unleash some of the creativity of solving problems in a different way that we all are working.
Question 6: What are the key attributes of a successful tech leader?
It is really interesting because technology has changed and continues to change at such an accelerated rate and pace. So you know the competencies around knowing what the new technologies are and how they are going to be used within a business is pretty much a given. I think at the heart of all this is leadership to successfully implement and use technology for business and is very much a human characteristic that people need to have. So for me creativity, risk taking, innovation, people being people centered and people being people focused as to how technology is going to solve problems for people, understanding the benefits to the businesses are all critical to being a successful leader in technology.
Question 7: How do you influence other people?
It is really interesting that you know influencing is a pretty difficult skill and I think sometimes it is really undervalued and I have always thought that crisis forces change to happen. Now I never imagined this level of crisis that we are going through with the Corona Virus and the lockdown situation. But I think that has kind of helped accelerate people's willingness to be influenced and consider new and different ways of solving a problem.
But in fact if I think pre lockdown for me it has always been about helping people to realize the benefit and value that they are going to experience or their clients are going to experience or their customers are going to experience from seeing something new and different. So you know I definitely think that having a growth mindset is really important and that helping other people to have a growth mindset about what can be achieved is super important and that is how I kind of like to influence people. And share a journey and it's not necessarily about having a single vision and helping people come towards that vision but making them feel truly a part in developing that vision as well.
Question 8: How do you make your toughest decisions?
Tough decisions by their very nature are of course very difficult and it's super interesting because I know we make, as an individual, around 35,000 decisions everyday. A lot of people, through our eyes, through information processing, we make a phenomenal amount of decisions so tough decisions I think take a little bit more time so personally I do kind of write my benefits and dis benefits, pros and cons list. I am very data driven so I use data to support my decisions almost like many business cases. Where there is a lack of time, sometimes gut and intuition play into that as well. So I think using a combination of those things helps me to make the tough decisions. And you know where required, if it's not the sort of decision that I need to take personally but would benefit from the power of bringing in the power of the crowd, be that my family, be that my husband, be that colleagues at work and be there other leaders that I work with, then I would do that.
Question 9: What are the biggest challenges facing tech teams post lockdown?
Post lockdown I think we need to look at it as an opportunity so we have been forced to work in completely new ways for a lot of organizations and our clients businesses for example very very quickly. So I think, making sure we take all of the good learnings and the good practices that have come out of this situation and not losing them and reverting to old ways is going to be critically important post the end of the Pandemic.
Question 10: What's the best career decision you ever made?
Interestingly I am doing a very different role to the traditional role that I did for the first 15 years within the business. I think focusing and trying to do something different a few years ago in doing the role that I am now doing was one of the best decisions I have ever made because it really helped to look at the business in a completely different light, something wouldn't necessarily have been possible when working on, like of individual client projects which is phenomenal and I have a lot of amazing colleagues who are doing really great work in that space but for me personally a someone who likes to influence a broad array of things and have the opportunity to shape a lot of different things. I think it was really interesting in taking a slightly different direction with my career. It has been one of the greatest decisions that I have made.
Question 11: What's the best piece of career advice you received?
I think the best piece of career advice is to be true to yourself and to play to your strengths and to build on those and to help other people along their journeys as well. You know I think a lot of people do try and fit to a particular mould, I think of you are able to bring your genuine passion and authentic self to whichever organization you are in or you know even if you are running your own business you see that is critical and remembering to be passionate, stay authentic to yourself and have the courage of your convictions is definitely a great advise that I have received. And hopefully passed on on to others that I have mentored as well.
Question 12: If you could travel back in time, what would you tell your younger self?
If I could travel back in time I think you know I would tell myself that I would reflect on how my personal journey has been to understand that you don't need to have this kind of hero mentality that actually building really strong relationships with people and solving problems together is the thing which is really gonna make a real difference, I think especially when we were on early in our careers, we think we need to be the ones who are coming up with all the answers, We need to be the ones individually solving problems, but I have learned that actually it's about building fantastic teams, fantastic relationships, taking ideas from a lots of different places to bring that all together. So, build your community, build your team, build your relationships.
Question 13: What's the one thing you would like someone to take away from this interview?
So I think whilst it is the most undoubtedly difficult time that anyone of us has ever experienced in our lifetimes. I think we have to try and look at the positives that are gonna come from this, be that a new way of working, be that in completely creative and new ways of solving problems. I think it has forced a level of creativity and accelerated creativity that we have never seen before. And I think if people continue to have that mindset post lockdown I think if they can take that away, to help them kind of reimagine what they need to do, I think that would be a great thing.
Question 14: What's the first thing you want to do after lockdown?
For the first thing I plan to do after lockdown is to hug all the people I haven't been able to hug. For sure you know I really miss My parents, my extended family, my in-laws, my siblings. We have not been able to see them or physically express my affection for them. So that's definitely gonna be one of the first things that I am gonna do post lockdown. And also go on and eat in a lovely nice restaurant.
Shilpa's Recommended Book
Think Like a Freak by Steven D. Levitt, Stephen J. Dubner
Thank you to Shilpa and all our wonderful guests.
Full length version of this and all other interviews is available to "Existing Members".
If you'd like to join CTO Academy and get access to these interviews, our management skills courses and more, sign up via "New Members".