"Best career advice was to focus on my contribution and worry less about what others were thinking"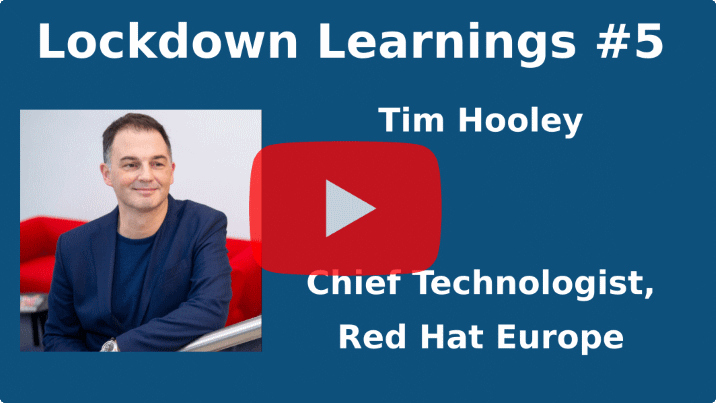 Highlights Transcript;
Question 1: What did you want to be growing up?
Two things, my official target career was to be a car designer and my unofficial target career was to be a rock star! Both of those ambitions were thwarted by a lack of the right talent unfortunately.
Question 2: Why did you get into tech?
By accident actually, I joined Anderson consulting and at the time their main area of growth was in financial services and also in technology and so they persuaded me to go in that direction, so completely by accident.
Question 3: What's a typical lockdown day?
Scanning and shredding, while I've been working a lot and cooking a lot and doing other things, I've been taking the opportunity to get rid of all that old paperwork that's been cluttering the house for years and years, by scanning and shredding.
Question 4: What's your biggest challenge during Lockdown?
Well my role at Red Hat really involves meeting customers and building relationships with new and existing customers and obviously that's not possible during lockdown so I'm having to think of creative ways of getting in front of customers and making those customer meetings meaningful and obviously just trying different technologies to do that, it's not easy.
Question 5: What are you learning about yourself?
One of the things that I've been doing during lockdown is to start to learn German. I've realised actually that learning a new language isn't as daunting as I thought it might be and I probably should have started to do it earlier, to be honest. I'm learning that learning a language is something that I can probably do.
Question 6: What are the key attributes of a tech leader?
Yeah so I think these have changed recently, if it used to be; having a strong vision, hiring the right team, picking the right toolset. I think nowadays it's more about; building the right ecosystem of partners, having the right platform to enable innovation. I think those are the two things that are kind of new, that CTO and senior leaders really need to focus on these days.
Question 7: How do you influence people around you?
My style is to really do a lot of research, look at both sides of the argument and try to nudge people in the right direction so that's my strategy.
Question 8: How do you make the tough decisions?
I use a mixture of some formal analysis. I use weighted factor analysis quite a lot as a formal method but I also have a bit of gut feeling and try to marry the two things together.
Question 9: What's the biggest challenge facing tech teams post lockdown?
I think that innovation is so important right now and innovation often happens in those informal moments between meetings, at the tea point, over dinner, over coffee and obviously we're not doing any of those things now so my fear is that those sparks of innovation that happen informally with people in teams or colleagues, just won't happen as much.
Question 10: What was the best decision you made?
In my last job, we made a decision to build a platform rather than to buy. Although that was a harder direction to go in it enabled us to prove the concept that we were trying to do and really saved the expense and time of going down the buy option and it helped me to raise my profile. It was a win-win, the company won, the team won and I benefited from it as well, so I think that was the best decision.
Question 11: And the worst?
I try not to dwell on sort of bad decisions that I've made but I think about this as things I didn't do that I could have done. So you know, should I have moved to New York at some point in my career, should I have hired that person that I didn't hire, it's things like that, that we'll never know the outcome to, so I try not to dwell on those things too much.
Question 12: What's the best career advice you received?
It was to focus on my contribution to a meeting or a decision or a project and really worry less about other people, I used to be a bit of a worrier about what other people were thinking and you know, had they outsmarted me so I was told really to focus on my own contribution and that helps significantly.
Question 13: If you could go back in time, what would you tell yourself?
To go on holiday more! I think the projects will always be there when you come back and I think there has definitely been times where I've avoided holidays or missed holidays for work-related reasons and in hindsight, that was probably not the right thing to do,
Question 14: What's one task you won't achieve during lockdown?
So whilst I've been cooking a lot my cooking skills have not been getting any more adventurous and whilst I'd like to think of myself as a budding chef, in reality the boring grilled chicken and grilled meat is sort of staying as it is. I'm not getting any more adventurous so becoming a better chef is not going to happen.
Question 15: What's the one thing you'd like people to takeaway?
I just think that embracing innovation and change really is the key to longevity and not focusing on trying to make the same thing go on and on and on and just being open to innovation and change really.
Question 16: Any question you'd ask other tech leaders?
I'd like to know from other people, what's the thing that they were focusing on before the lockdown that they've realised wasn't really that important? So what's changed in their priorities that's been unexpected?
Question 17: What's the first thing you plan to do after the lockdown?
I've a very strong urge to go to a football match, I don't really know why it is because I don't go to football more than a couple times a year but I've got a very strong urge to go and see Arsenal, probably get beaten.
Tim's Recommended Book
Reminiscences of a Stock Operator by Edwin Lefèvre
Thank you to Tim and all our wonderful guests.
Full length version of this and all other interviews is available to "Existing Members".
If you'd like to join CTO Academy and get access to these interviews, our management skills courses and more, sign up via "New Members".