Happy Friday
Funny how the new norms are starting to settle in.
I no longer suffer embarrassment when my 6 year old wanders into view during a conference call and yells, "where is my ice cream?"
But we wanted to find out how senior tech leaders around the world are dealing with lockdown and planning for the next steps.
So we've launched a series of video interviews called Lockdown Learnings where we will be hosting online chats with tech leaders to find out.
Our first guest this week was Marcin Floryan, Director of Engineering at Spotify.
Guests next week will be Colin McQuade, Head of Technology at Barclays International and Ben Jones, Group CTO, Gfk.
Highlights of #1 with Marcin Floryan are available in this newsletter.
Annual and lifetime subscribers to CTO Academy will have access to the full length versions of this and all future interviews.
Otherwise, we provide you with more thoughts and considerations in the normal style of the '5 Minute Tech Break', continually reviewed as one of the best tech leadership newsletters around.
But then again, you already knew that.
Until next time, stay safe and look after yourselves.
Andrew Weaver
Global Tech Leaders On Lockdown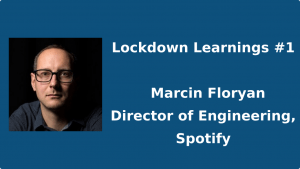 Marcin was kind enough to join us from Stockholm and talk through some career highlights, dealing with lockdown and what we can learn as we emerge from these extraordinary times.
"I see the key attributes of great tech leaders as authenticity, humanity and empathy"
"Been interesting to learn how much I crave being around people and that office distractions are part of how I do my job"
"Can we learn from lockdown about how to communicate, share information and interact better with the world around us"
Watch the interview with Marcin here.
10 science backed tips to help you work from home successfully
As the President of the United States suggests we inject ourselves with disinfectant, don't you long for some more scientific based leadership?
The best we can offer here at the 5 Minute Tech Break is an article from the BBC Science Focus magazine which looks at 10 science backed tips for successful home working.
Not a hint of hydroxychloroquine in any of these tips.
The Art Of Giving Feedback
Meanwhile the demands of running a business continue and intensify including that most delicate of topics, giving feedback.
It's not a topic most of us feel completely comfortable with in normal circumstances but has become even more challenging during these days of remote working, macro stress and the abnormality of our current day to day working conditions.
It was a topic we decided to cover this week within one of our blog posts.
Book Of The Week 1
Difficult Conversations
This week we asked Marcin Floryan to nominate his favourite books. He chose two.
Nice seque with our feedback article is that his 1st choice was Difficult Conversations by Douglas Stone.
Described by one reviewer;
"This book helps you to gain an understanding of the best approach to take when facing a conversation that has a high risk of going badly.
I used the principles that I had learnt within it to advise one of my team members when she had a falling out with a colleague and needed to talk to him about it. It really helped to diffuse a bad situation, and lead to a great improvement in their working relationship.
I would strongly recommend this book to anyone, as it gives great advice and guidance that can be applied in both your personal and business life"
Book Of The Week 2
The Human Side Of Enterprise
Book number 2 from Marcin is a 1960 management classic, The Human Side of Enterprise by Douglas McGregor.
Described by one reviewer;
"The original was written in 1960, and is still relevant today. It brought out the discussion on how best to treat the workforce to increase productivity. McGregor outlined two basic approaches, Theory X and Theory Y. Theory X was about assuming that your workforce did not want to work, and approaching them with a "carrot and stick". Theory Y assumes that people want to be fulfilled in their work, and that by addressing that need, people would naturally increase productivity.
The introduction talks not only of the value of the original book, but how is applies to current and future challenges.
This is one of those books which I would recommend to anyone looking to study leadership or management, as a good, and very readable, grounding in the thinking about how to treat the human resource in the organisation"