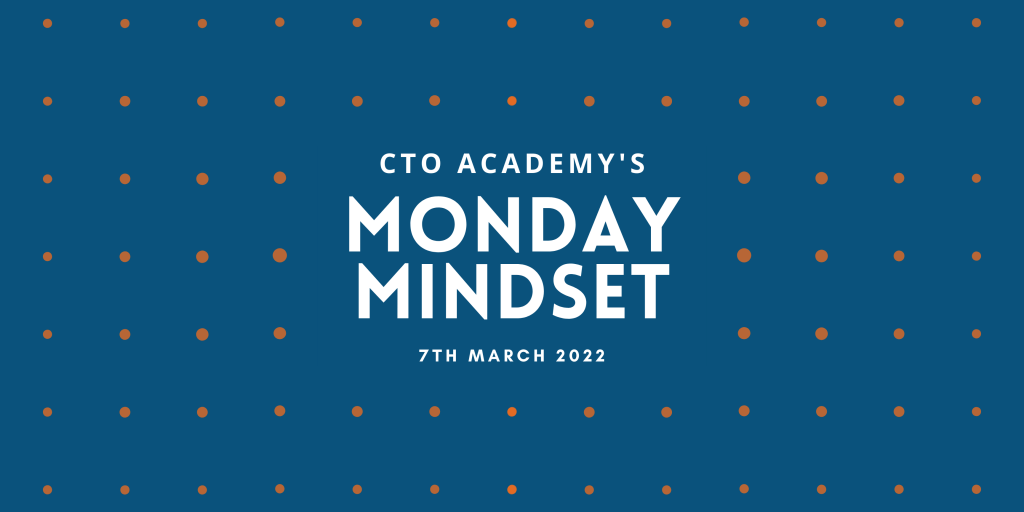 Hey!
Welcome to the first edition of our new email series Monday Mindset!
Starting from today we'll be sending weekly tips, tricks, hacks, lessons, and the occasional rant on the leadership skills and mindset that can make such a difference in senior roles.
In Monday Mindset #1, you'll find
? From Purpose to Impact
? Mindset Traits of Disruptive Digital Leaders
? Building trust effectively
VALUES LED LEADERSHIP
From Purpose to Impact
The two most important days in your life are the day you are born and the day you find out why. — Mark Twain
That Mark Twain knew a thing or two in his time … but we particularly enjoy this quote.

Without understanding your purpose and your why, it's much more challenging to find your optimal working and career experience.

And if you're not finding purpose then you're probably struggling to find a flow in your professional and personal life ….

At the very least, if you're unsure of your values and therefore your purpose, then you might be making the wrong career and life choices.

Also, if you don't know who you are and what you stand for then it's much more challenging to lead others because they can probably sense that disconnect.

This is not just about success at work…. doctors have even found that people with purpose in their lives are less prone to disease. Purpose is increasingly being touted as the key to navigating the complex, volatile, ambiguous world we face today, where strategy is ever changing and few decisions are obviously right or wrong
So everything starts at home.
Start at understanding yourself.
Then build from there.

And it's never too late to undertake this reflective process and if necessary to begin again.
Seasoned followers of our team at CTO Academy will know this is one of our mantras.

It's the very first section of our eBook.

It's also at the core of one of our favorite books about Purpose … Flow, The Psychology of Optimal Experience.

Here is a 2004 video from the author Mihaly Csikszentmihalyi explaining more.

TRAITS
Mindset Traits of Disruptive Digital Leaders
We read this great article from Gartner with the main message "successful disruptive digital leaders are able to transform themselves to transform the company".
The mindset we were given at birth and throughout our personal life is not sufficient to create successful businesses. To become a disruptive leader you need to be ready to substantially work on changing your mindset.
Amongst the changes that must be made, you need to embrace the idea that uncertainty is inevitable, learn to focus on the digital-era competitive levers, and cultivate a creativity and innovation culture.
LEADERSHIP
How to Build Trust
Trust in you as a leader is developed in so many different ways, not least around perceptions of who you are and your authenticity as a leader.
If your team doesn't trust that you're working in the best interest of the company and them, then your impact is severely weakened and the working environment can become highly politicized and toxic.

You will have worked for leaders and been in environments like that yourself.
In this great article from Forbes 10 ways were highlighted to build trust in your team:
Talk about fear and trust as business topics
Step away from the philosophy of blaming and shaming employees for mistakes
Review your employee handbook and policies
Get your executives in front of employees as often as possible and in the most informal settings you can arrange
Value your employees as people more than you value them as production units
Role model appropriate leadership and get your fellow leaders to do the same thing
Admit when the company makes mistakes, or when you personally make a mistake
Use a human voice in your communications with employees
Ask your employees how they're doing, what they think and what they'd like to see at work — all the time
Be honest with employees
COMMUNITY
The Debate of the Week
Our slack community was booming last week!
We had an amazing burst of new members.
Welcome!
"Debate of the Week" was about the rise of software costs:
Q: Does anyone expect software costs to rise this year (either as a seller or purchaser) due to inflationary pressures? ?
A1: Speaking as a seller of saas – Yep we're increasing all of our prices this year due to inflation, and our employees will directly benefit from this in their salary ?
A2: The US inflation that we have seen in the job market will translate into higher inflation in general for US-based businesses as well. Going to be a tough couple of years.?
A3: Just add BTC to your balance sheet – oh wait that's also volatile ?
EVENTS
Manchester Event
We'll be in Manchester at the end of March launching the first of a series of global networking events.
Yes, actually meeting people …
Come and join us!
Thursday 31st March, Dukes 92, Castlefield, Manchester
1830 – 2030
Drinks, Nibbles, Networking