Hola Everyone,
Greetings from a sunny Madrid that is finally emerging from lockdown. Hope you're safe and seeing a similar movement towards whatever the new normal will look like.
In the meantime, The 5 Minute Tech Break is back with a look at the dangers of early adopters, podcast and book recommendations, another fantastic tech leader interview with a really engaging Dominik Maximini, author 'The Scrum Culture'.
BTW – if you're a paid member of CTO Academy, you now have access to all of our full length interviews. We edit down the conversations into 10 minute highlight packages, but the full versions run for double that time and more with additional really interesting insight.
Until next time, stay safe and best wishes from us all here to you and your family.
Andrew Weaver
[email protected]
Lockdown Learnings
The Latest Interview
Dominik is a leadership coach experienced in integrated software development. He started programming at 14 but discovered later that he can impact project success better in project management. Once he got fed up with classical project management methodology, he switched to Scrum and is the author of The Scrum Culture : Introducing Agile Methods in Organisations.
Dominik joined us from Germany where he is currently leading a team of agile coaches in Germany. He is someone with both feet on the ground and a vision to bring openness and honesty into companies. He was also a great guest for Lockdown Learnings.
"Career means something different to every individual. For me it's to combine your calling with the things you're really good at"
Watch the interview with Dominik here.
Early Adopters – Wonderful But Dangerous
A couple of similar conversations this week with CTO Academy members about the benefits and pitfalls of early adopters.
Early adopters by their very nature are more tolerant and forgiving with minimum features and bugs, that might not be the case with the mainstream market.
So we decided to cover the topic in this weeks blog –
'Early Adopters – Wonderful but Dangerous'
Dealing With Non-Technologists
Has Never Been Easy
Communication skills is probably in the top 3 of consistent topics that crops up in our coaching calls and requests for course material.  Managing the relationship with your CEO is definitely high up there as one of communication challenges faced.
Also and we have covered it in previous newsletters, there is the perennial challenge of dealing and communicating with non-technologists, often people sitting on your board.
I say perennial because judging by this article from 2001 it's always been the case.
Seven Tips For Talking With Non-Technical People concludes with this ….
"You're outnumbered but you're also in demand, and you increase that demand when people know what you're talking about"
The Post-Pandemic Business
Regular readers will know that Masters of Scale is one my must listen business podcasts.
Hosted by Reid Hoffman, Founder of Linkedin, it delves into how you survive and scale early stage/fast growth businesses.
He has a significant black book of significant entrepreneurs and regularly opens it up to attract some interesting guests and insight.
His recent episode though was just him handling a really interesting Q&A session with entrepreneurs and founders around the world with how to deal with whatever comes next with Covid-19.
I really recommend this episode and the wider podcast, no matter what size of business you have. It's coalface advice that could help you and your senior team negotiate some of the choppy waters ahead.
"The new normal is not going to the be the old normal. Economies will go back to work, but it is going to much more turbulent"
New Course Material + Full Length Interviews
For CTO Academy members, new lectures released this month ..
Jason looks at Perception of Quality [Leadership Course]
We dig deeper into recruitment and a look Behind The Scenes of an Effective Hiring Process [HR for IT Managers Course] with new Head of Careers Richard Weaver.
In addition members can access the full length Lockdown Learnings interviews where our guests drill into much more detail on the management topics discussed.
Members can login here.
If interested in joining CTO Academy, more information here.
The Corporate Culture Survival Guide
Chosen by Dominik
"If you're the type of manager that needs a quick-fix solution, with simple catch phrases and an easy Five Step Program to Success, this book is not for you. Nor are the benefits to be gained from acquiring the depth of knowledge and insight needed to understand, work with, and transform your corporate culture. Using intelligent, lucid prose, Schein provides this kind of insight and more; he tells cautionary as well as inspiring tales of what this insight can mean for your company, and offers useful suggestions for putting knowledge into practice"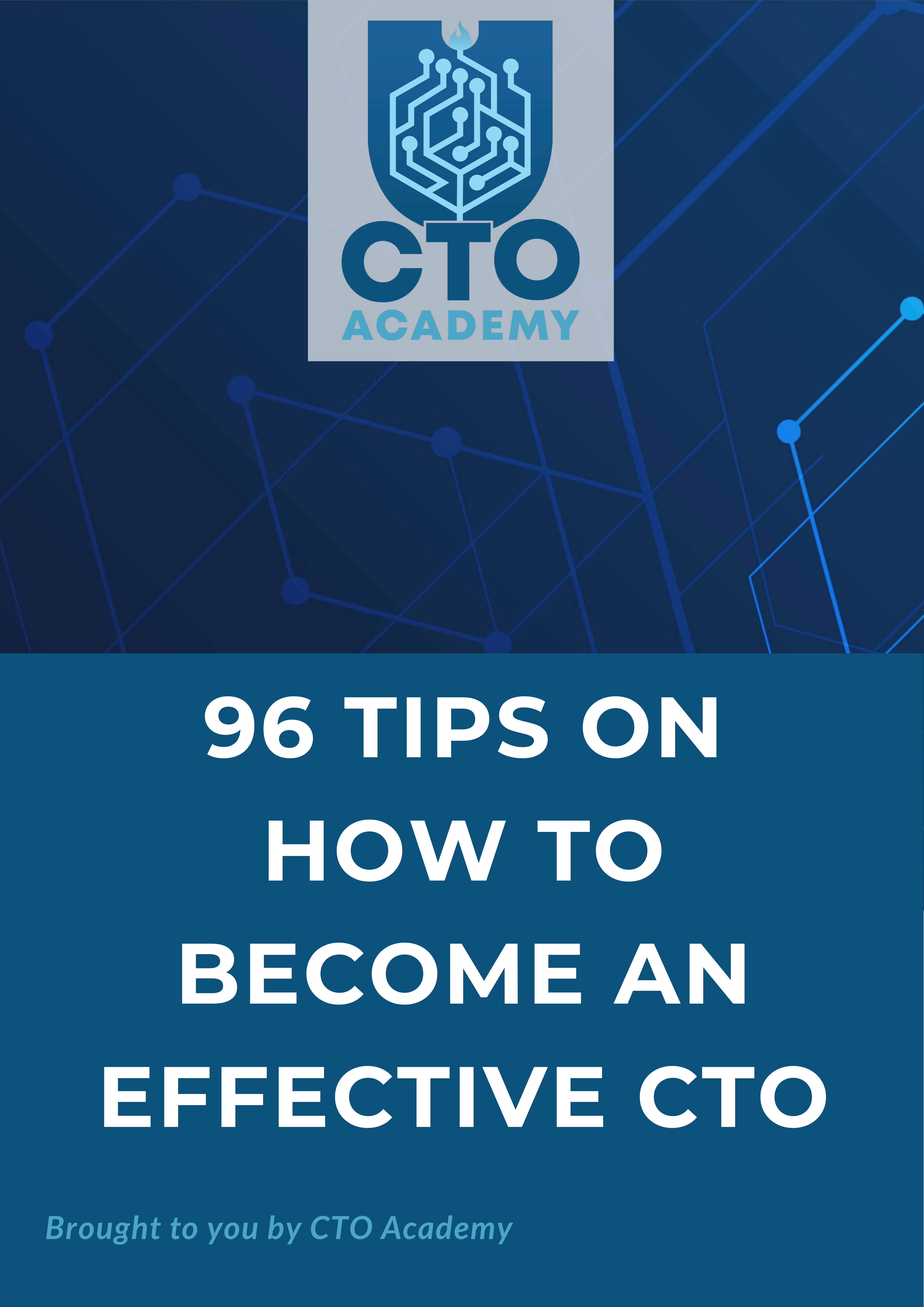 CTO Academy focus on professional growth for technology leaders.
We work with tech leaders in 60+ countries via a combination of courses, coaching, career and corporate services.
Get in touch if you think we can help you and your team – including our mentoring service to help you navigate the current choppy waters.
In the meantime and if you haven't done so already, I present you with our bumper eBook.

Real insight and honest feedback on how to improve your company, your process and become a better CTO.
I saved 8-9 months of learning time, just by joining CTO Academy and that is priceless, the compound benefits significant  

Dhaval Bhatt
CTO of Squibler.io, San Francisco
NOT ALREADY A MEMBER OF CTO ACADEMY,
WHAT ARE YOU WAITING FOR?
Access to all course material from just $39.