CTO Leadership Foundation Course
Take the next step to becoming a high impact Chief Technology Officer with this globally recognised online course.
What's at the core of the CTO role
How to transition from technical to managerial
Managing and communicating with stakeholders
Team building and the art of delegation
What matters with tech management and operations
Mindset, values and personal branding
Commercial and legal priorities for a business
What's key to working with cross functional teams
Who The Course Is For
Chief Technology Officers
Early stage CTOs / Tech Co-Founders
VP/Head of Engineering
Director/Head of Technology
Head of Development and Product
Senior Engineers, Architects, Team Leads
Certificate on Completion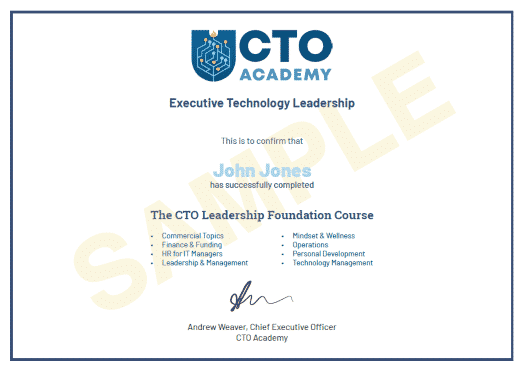 Really compact lectures with lots of useful information and those tests made me pay attention to every word
Modules are high value resource, providing broad-based business skills essential for success in the modern workplace
The Course Focus
The best CTOs are in high demand around the world with significant reward to those having a real impact on organisations.
But it's the soft skills that make a difference between accepting the salary you're offered or demanding the one you deserve.
Our micro lectures and personal dashboard (see example below) will help you build the leadership skills needed to achieve the career and impact you want.
Dummy
Commercial
Marketing Topics
Introduction to Marketing
Working with CMO
Marketing Rinse & Repeat
The Funnel Principle
Social Media
Sales & Customers
Why Customer Support Matters
What Makes An Effective CS Team
Introduction to Selling
Selling And The Importance of Trust
Compliance & Legals
Introduction to Business Law
Compliance: Business Pt 1
Compliance: Business Pt 2
Corruption & Bribery
Whistleblowing
Partnerships
Commercial Partnerships
Academic Partnerships
Strategy
What is Strategy?
Planning An Exit Strategy
Company Sales
How To Build a Business for Exit
How To Build Value In Your Business
Considerations On Business Valuations
Leadership and Management
Being a CTO
What is a CTO?
Important CTO Goals
Day in the Life of a CTO
What's on a CTO's radar?
Economics And Budgets
Podcast: What does a CTO do?
Leading Teams
Team Dynamics
Teamwork & Collaboration
Fundamentals of Team Building
Leaders
Perception of Quality
Defining Tech Leadership
Finance & Funding
Budgeting
Introduction to Budgeting
Podcast: Beyond Introduction to Budgeting
Forecasting
Accounting
Different Types of Expenditure
Funding
Grant Funding Pt 1
Grant Funding Pt 2
10 Steps to Crowdfunding Success
HR For IT Managers
Management
Managing Contractors
Managing Remote Freelancers
Employment
Behind The Hiring Process
Good Hiring Reduces Bad Hires
People Leaving The Company
Mindset & Wellness
Mindset
Welcome to Mindset & Wellness: Managing With Compassion
Chief Mindset Officer
Fixed vs Growth
Know Yourself
Know, Like, Trust
Wellness
Creating A Positive Working Culture
Managing Burnout
Operations
Testing
Introduction to Testing
Types of Test
The Process
Issues
Systems & Processes
Introduction to Systems and Processes
Systems & Processes
What Systems?
Agile Processes
Code Processes
Objective Key Results (OKRs)
Introduction to OKRs
Implementing OKRs
Personal Development
Personal Branding
Marketing Yourself
Freelance Opportunities
Improve Your Linkedin Profile
Become a Thought Leader
Blog Writing For Tech Leaders
Board Level
Attending Board Meetings
Managing the CEO
Board Relationships
Negotiation Skills
An Introduction to Negotiation
Communication
Presenting to Non-Technical Customers
Handling Interviews
Technology Management
The Crucial Stuff
Source Control
Continuous Integration
API Integration
Data Quality & Sources
Data Analytics
Research and Development
Quality Assurance
Choosing the Technology
Choosing the Technology
The Art of Timing
Dealing with Hazards
Platforms and Technologies
Security and Data Privacy
Software Architecture – Part 1
Software Architecture – Part 2
Software Architecture – Part 3
Start Ups & Fast Growth
Funding
Dilution
Dealing With Investors
Introduction To Seed Capital
Risks & Rewards
Working With Tech Leaders In Innovative Companies Around The World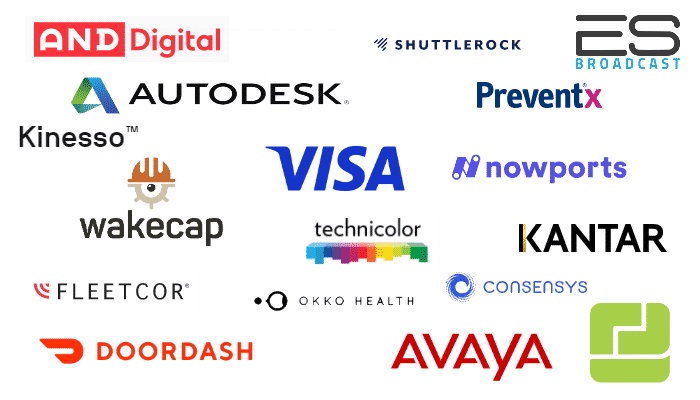 9 Leadership and Management Modules
>100 individual lectures, podcasts and webinars
>50 hours of video and supporting material
Personalised learning dashboard (see below)
Tests at end of each module
Exclusive invite to global community
Membership discounts on other products
CTO Academy certification (see sample)
Lifetime access to all course material
7 day money back guarantee
Frequently Asked Questions
Foundation Course
This is a foundation course aimed at helping ambitious tech leaders build their leadership skills and understanding of what is required to operate effectively at a senior level. The course is evolving as we add new material but the focus throughout is about addressing the key topics where emerging tech leaders can sometimes struggle.
We interview global tech leaders who talk candidly about their career high and lows, what makes an effective tech leader and more recently, the challenges and opportunities around Lockdown. Signing up to the CTO Academy foundation course will provide you with access the full length interviews.
With CTO Academy you receive access to our unique and integrated learning dashboard, enabling you to track progress from skills assessments to course material to coaching options.
Each module concludes with a test that aims to reinforce the learning. Upon completion of the full course, you will receive CTO Academy certification that confirms your achievement and which can be added to your CV and social media profiles.
Yes, this is not a static course, though you will only pay once for 12 months access. We are constantly adding and updating our course material which much more in the pipeline for release during 2021.