Do you know why some chief technology officers can drive very attractive salary and equity packages while others can't? This post looks at the average CTO salary in the USA in 2023 across cities, states and organizations, examining the determining factors that affect the bottom line for tech leaders working in US companies.
Just to give you a clue, the average base salary of a Washington-based chief technology officer is $220,239 while one working in Alabama will earn 41% below the national average which is (a still decent) $113.837.
The size of the paycheck is, of course, influenced not only by location but also by company size and market share.
Other factors that affect CTO salary
A chief technology officer is an integral part of the decision-making team in an organization and generally oversees the technological developments and requirements, leading, managing and sometimes coercing high performance from the technical team.
The CTO not only evaluates short- and long-term technology goals for the business but may also be responsible for finding optimal ways to invest capital and for developing policies that use technology to enhance the customer experience (ie. product-market fit).
It's a role that demands strategic thinking, problem-solving, management and role-specific leadership skills — whether focused on infrastructure, team building, planning, or customers. There's also a fair amount of pressure, as with most executive-level roles.
The salary negotiation will include all these variables. What we can do here is provide an approximation of the averages you might expect — though, alas, there are no guarantees.
Also note that these averages do not include equities companies often use to entice top-quality staff, offering them as long-term rewards to offset short-term salaries below the market rate. These packages are particularly common in the start-up environment, which makes accurate analysis of senior management salaries quite tricky.
What is the average CTO salary in the USA?
The average annual salary for a US-based chief technology officer is $194,006. This is the median number derived from 562 reported salaries in April 2023 collected by Indeed.com.
As a rule of thumb, along with a salary comes a CTO compensation package which commonly includes:
Dental insurance
Health insurance
Paid time off
What are the CTO salary ranges in the US?
The highest-paying US city is Seattle, Washington, where CTOs average $264,532 (based on 15 reported salaries).
At the same time, and, perhaps, contrary to general belief, a tech leader working in Los Angeles will bring home far less, $170,605.
On the national level, however, the highest CTO salary according to Glassdoor is $311,540 while the lowest is around $100,161.
If we cross-check the US states/cities/big companies, Google's chief technology officers get $216.172 plus up to $400K in equities. It seems that it still pays off to work in Silicon Valley, doesn't it? But the last reported CTO salary at Google is just above $190,000 including bonuses, so keep that in mind when contemplating the aggregates you find online.
Interestingly enough, an Idaho-based software development company, Corporate Tools, pays a whopping $400,000 to CTOs if we are to believe 8 salary reports submitted to Indeed.com.
From San Francisco to New York, the United States of America still pays the highest rates to chief technology officers compared to the rest of the world.
What is the average start-up CTO salary in the US for 2023?
Ziprecruiter reports that a start-up CTO makes approximately $142.471 as of Apr 2023.
However, determining the expected median salary of a chief executive officer in a start-up is difficult. For instance, the founders of a company often take salary reductions as the equity they hold in the company will be much higher than any other employee. Thus, they take pain today but stand to gain significant reward in the event of a potentially successful exit tomorrow. And they offer the same to a candidate for a CTO role.
Read more about the Salary vs. Equity vs. Time aka 'The Start-Up Conundrum'
Additionally, if the company is still looking for seed funding, the CTO salary range will be significantly lower than the average as investors will rarely tolerate big salaries at such an early stage. As the company becomes more stable, raises more money and starts to show decent profitability, market-rate salaries become more acceptable and, frankly, the senior team should start demanding them. Remember, You should only underpay yourself in extreme circumstances.
Finally, the average salary of a chief technology officer in a US start-up may depend on answers to any or all of these questions:
Is the company healthy?
What kind of tactical or strategic decisions are you making?
What is the revenue model?
What does your equity package look like?
How impressive is your resume?
We advise that you consider these before moving into a high-reward, high-risk start-up.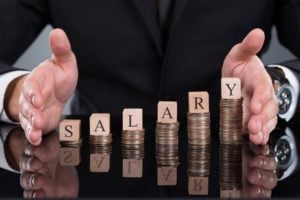 Conclusion
Chief technology officers are highly sought after in the global market, with demand outstripping supply of good quality CTOs with broad management skills.
The US market is no exception.
In early 2019, the Bureau of Labor Statistics predicted that job openings for CTOs in the US are likely to continue increasing over the next few years with the exponential growth of businesses based on information systems.
Demand for software engineering positions and tech leaders will increase as the companies and teams grow and branch.
Growth in the internet and mobile usage, increasing emphasis on business solutions, the growing importance of IoT (Internet of Things) and big data in business operations are other significant factors driving the demand for high-quality technology leaders.
Several factors will determine your final CTO salary package. That is to say, the more management and soft skills you add to your technical capabilities, the higher your value is in the market.
Therefore, first, arm yourself with a wide range of skills and expertise that makes you a desirable leader, and only then negotiate the salary package you deserve. Make no mistake; do it right and your employer will be prepared to pay generously.