In this post, we explain the relatively new Field CTO role and how it differs from a more traditional Chief Technology Officer role. We will see how a Field CTO job description determines the type of person suitable for the job. We will take a look at the job prospects and, of course, the average salary.
First things first…
What is a Field CTO?
A Field CTO is a high-ranking executive role that is becoming ever more popular in tech companies (IT, software or telecommunications industries). Their primary responsibility is bridging the gap between technology and business strategy while also engaging directly with customers and partners. In other words, the focus is on developing an innovative approach to dealing with customers' problems. This is not something a traditional CTO usually does, at least not to such an extent.
In fact, Confluent's FCTO, Kai Waehner, claims that there is less than 10% overlap between FCTOs and the more traditional technical leaders in day-to-day tasks. He also defines the Field CTO as a trusted and well-known advisor for the product and technology that the employer sells to make customers successful around the world. Translated, that means frequent communication with customers, which, by itself, can be challenging for most existing and soon-to-be technical leaders. Because, as you will learn, FCTOs are becoming the public spokespersons of choice for their companies.
Key Aspects of the Field CTO Role
The FCTO must possess business acumen and a deep understanding of the market. The reason is simple: the primary focus is on customers' problems and innovation. As an FCTO, you want to map all the challenges into the vendor's product portfolio.
Forward-operating aspects of the role
Another element that largely differs from the traditional role is technical evangelism. You will be directly responsible for (actively) promoting your company's technology solutions. To put it bluntly, you will evangelise them to customers, partners and the broader industry. This involves articulating the value and benefits of the company's offerings. Not exactly an ideal job for someone who's struggling with open communication, is it?
So, unlike our traditional CTO who is mostly inside-oriented, an FCTO frequently engages with customers to a) better understand their technology needs, and b) identify opportunities. It is the only way to perfectly align the company's products or services with customer requirements. Naturally, this often involves building and maintaining strong relationships with key customers and partners.
Inside-oriented roles
With such a deep understanding of customers' needs, FCTOs often collaborate with the sales and marketing teams to help them understand the technical aspects of the company's products or services. They may even participate in sales meetings, provide technical expertise during customer presentations and assist in closing deals. That involvement, however, doesn't extend to active selling.
FCTOs of technology companies, due to the nature of their involvement, hold an important role in merger and acquisition processes.
Since they act as a bridge between the engineering and business teams, FCTOs work closely with in-house CTOs and engineering teams on product development. They are there to provide valuable input into the development of new products or services. Additionally, they help prioritise development efforts. This, in turn, ensures that products align with market needs and technological trends.
What makes the FCTO such a valuable addition to the development process is the feedback loop they gather from customers in the field. That Information and data is relayed to the internal teams responsible for product development and improvements. This helps the company to stay responsive to market demands.
Many Field CTOs are seen as industry thought leaders. They may write articles, speak at conferences and represent their company in public forums to showcase their expertise and vision in the technology domain.
It's clear that a Field Chief Technology Officer plays a pivotal role in aligning technology with business goals, fostering customer relationships and driving innovation. However, we must note that the specific responsibilities and influence of an FCTO can vary depending on the company's size, industry and strategic objectives.
What is the Difference Between a Field CTO and a Part-Time or In-House CTO?
The roles differ primarily in terms of responsibilities, level of engagement and the nature of their employment. Here are some key distinctions:
Field Chief Technology Officer (Field CTO)
Engagement Level: FCTOs often have a broader role that involves customer engagement, technology strategy, market evangelism and thought leadership.
Customer Interaction: They actively engage with customers, partners and the broader industry to understand market needs, build relationships and represent the company's technology vision.
Responsibilities: FCTOs are less involved in the day-to-day technical operations of the company. They are, however, instrumental in aligning technology with business goals, shaping the technology strategy and ensuring that the company's offerings really do meet market demands.
Full-time position: They may hold a full-time position in the company but may spend a significant amount of time externally, interacting with customers and industry stakeholders. In fact, some jobs can involve remote working.
Part-Time CTO
Engagement Level: Part-time CTOs have a reduced level of engagement compared to full-time CTOs. They are typically engaged on a part-time or consulting basis.
Responsibilities: These may include providing technical guidance, reviewing technical decisions and offering strategic input. However, they may not be deeply involved in day-to-day operations or product development.
Flexibility: Part-time CTOs are often hired for their expertise on specific projects or to address particular technical challenges. Their engagement can be flexible and tailored to the company's needs.
In-House, Full-Time CTO
Engagement Level: In-house, full-time CTOs are deeply embedded within the company and are responsible for the overall technology direction and management.
Responsibilities: They have a wide range of responsibilities, including overseeing technical teams, product development, infrastructure management, budgeting and developing technical strategy.
Commitment: In-house CTOs are committed to the company on a full-time basis and are responsible for the day-to-day technical operations. They are often part of the senior executive team. However, in start-ups and smaller organisations, they have a more hands-on role.
In summary, the key differences revolve around the level of engagement, the scope of responsibilities, and the nature of the employment arrangement. Field CTOs are more externally focused, part-time CTOs offer flexibility for specific needs, and in-house, full-time CTOs are deeply involved in the company's technical operations and strategy. The choice between these roles depends on the company's size, goals and resource availability.
What are the responsibilities of a Field CTO?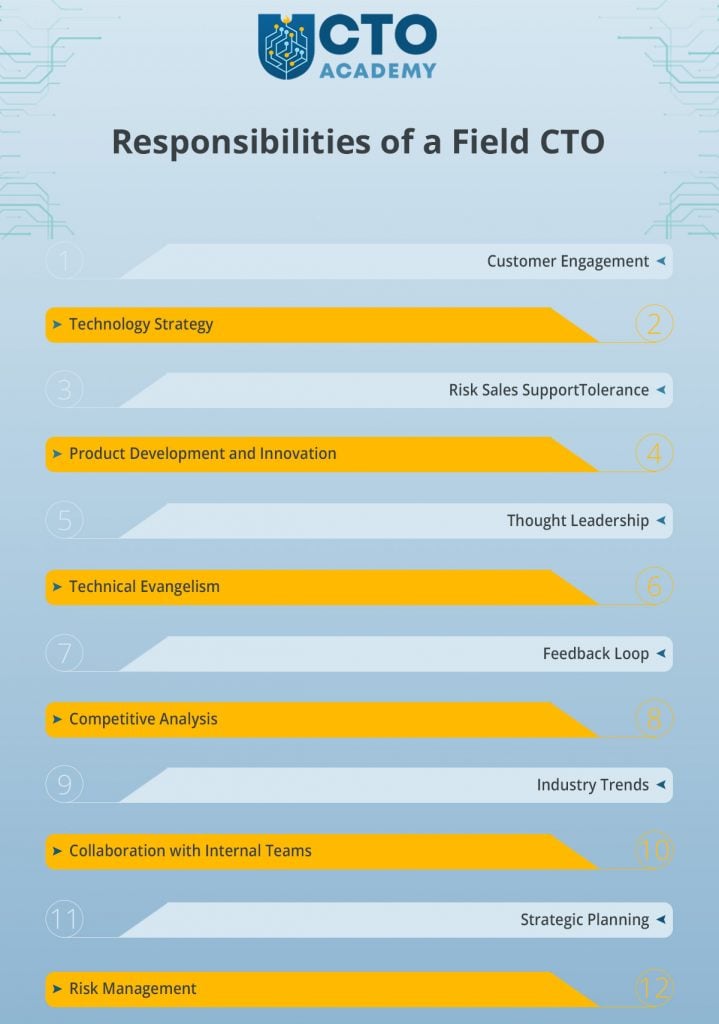 The responsibilities of an FCTO vary depending on the organisation and its specific needs. However, the role generally encompasses a combination of the following responsibilities (this is, effectively, a summary of everything we discussed so far and, quite often, form the job requirements on job boards):
1. Customer Engagement
Build and maintain strong relationships with key customers and partners.
Act as a trusted advisor to customers, understanding their technology needs and providing solutions.
2. Technology Strategy
Define and execute the company's technology strategy in alignment with business goals.
Identify emerging technologies and assess their potential impact on the business.
3. Sales Support
Collaborate with the sales and marketing teams to provide technical expertise during customer presentations and assist in closing deals.
Help sales teams understand and communicate the technical aspects of the company's products or services.
4. Product Development and Innovation
Provide input into the development of new products or services to ensure they align with market needs and technological trends.
Serve as a bridge between the engineering and business teams, helping prioritise development efforts.
5. Thought Leadership
Act as an industry thought leader by writing articles, giving presentations and representing the company in public forums.
Showcase expertise and vision in the technology domain to enhance the company's reputation.
6. Technical Evangelism
Promote the company's technology solutions to customers, partners and the broader industry.
Articulate the value and benefits of the company's offerings.
7. Feedback Loop
Gather feedback from customers and the field, and relay this information to internal teams responsible for product development and improvement.
Ensure that the company stays responsive to market demands and customer feedback.
8. Competitive Analysis
Monitor the competitive landscape, assess the strengths and weaknesses of rival companies' technology offerings and provide insights to inform the company's strategy.
9. Industry Trends
Stay up-to-date with industry trends and technological advancements, and assess their potential impact on the business.
10. Collaboration with Internal Teams
Work closely with various internal departments, including engineering, product management and executive leadership, to align technology initiatives with overall company goals.
11. Strategic Planning
Contribute to the development of long-term technology and innovation strategies for the company.
Ensure that technology investments align with the company's growth and profitability objectives.
12. Risk Management
Assess and mitigate technical risks associated with the company's products or services.
Ensure compliance with industry regulations and best practices.
As you can see, some of the responsibilities are universal; that is, closely similar to those of a traditional CTO. The specific responsibilities, however, extend beyond technical matters to encompass business strategy and customer relationships. In fact, some Field CTOs aren't even coding-savvy. But they do know how to best navigate code developers to get exactly what the market demands.
What skills and experience are required to be a Field CTO?
In a nutshell, the role requires a combination of technical expertise, leadership skills, business acumen and a deep understanding of the industry, just like every other CTO. But there are the skills and experience particularly required for this role (as seen in a number of job ads like the one for the Field CTO Snowflake is currently hunting for or the FCTO job in Oklahoma City):
Education and Skill Set Qualifications
Bachelor's Degree in Computer Science, Management Information Systems and/or Business Administration (ideally custom-tailored for technology leaders) or ~10+ years of IT sales or solution architecture experience.
5-10 years of industry-related experience and 5+ years of experience in a role similar to CTO, CIO, VP/Dir of Engineering, Operations or Product Development.
10+ years of architecture experience building, consulting or implementing technology for the relevant industry.
Knowledgeable in the challenges impacting the relevant industry and the application of industry-specific use cases.
A broad range of experience with technical and design direction that may also include large-scale database and/or data warehouse technology, ETL, analytics and public cloud technologies.
Familiarity with data providers and data aggregators.
Understanding of industry-specific concepts and applications.
The ability to travel to customer sites, industry events and other related events as required (in some instances, over 30% of time FCTOs spend travelling or working outside of the company's premises!)
Required Experience
Demonstrated ability to conduct conversations and quickly establish credibility with C-level individuals and other business executives where selling solutions are the focus (ie, outstanding presentation skills to both technical and executive audiences).
Work experience in a client environment, ideally in a leadership capacity.
Strong interpersonal and presentation skills including consulting skills.
Strong oral and written communication skills.
As always, it is important to note that the specific requirements for an FCTO can vary depending on the company, its industry and its strategic goals. In some cases, soft skills and industry-specific knowledge may be just as important as technical expertise. Successful Field CTOs are well-rounded individuals who can bridge the gap between technology and business, providing valuable leadership and insights to drive the company's success.
What are the career prospects for Field CTOs?
We know that FCTOs play a crucial role in the technological needs of an organisation. Consequently, the number of Field CTO jobs has slowly increased over the last few quarters.
For instance, Honeycomb, a company that offers a software debugging tool as a service, appointed an FCTO only a year ago. As Field CTO, Liz Fong-Jones will work with the executive teams on the company's strategic customers while continuing to bring cutting-edge technologies into the Honeycomb fold.
Just like a traditional role, the FCTO position provides substantial benefits. We are talking about:
Top salary possibilities
Equity or shareholder offerings
Leadership opportunities
Reputation development
Recognition and enterprise-level goal achievement.
In terms of career progression, FCTOs can look forward to roles in higher executive management or opportunities in consulting or entrepreneurship. They can also transition into specialised roles within the tech industry depending on their areas of expertise. It's important to note that the specifics can vary based on individual career goals and market trends.
What is the salary range for Field CTOs?
The average Field CTO salary is $189,711 per year. However, this can vary based on factors such as location, company size and individual experience.
For example, Snowflake offers an estimated base salary between $150,000 – $234,600, plus entry into Snowflake's bonus and equity plan.
The successful candidate's starting salary is usually determined by skills, experience and location. FCTOs are frequently offered competitive benefits packages, which commonly include:
Medical, dental, vision, life, and disability insurance along with a 401(k) retirement plan
Flexible spending and health savings account
Paid holidays and time off
Parental leave, etc.
What are some of the biggest challenges and opportunities facing Field CTOs today?
Challenges:
Technological Changes (ie, the rapid pace of technological evolution that requires high levels of adaptability).
A shortage of IT Professionals (creates a challenge in managing day-to-day operations).
Strategic Role (requires balancing the strategic role and daily operations).
Opportunities:
Operational Possibilities (technology is now much more embedded in day-to-day life, thus providing more business opportunities which, in turn, creates a wider array of operational possibilities for FCTOs).
Digital Transformation (still a dominant force, with its growth predicted to reach $3.4 trillion by 2026).
Technical Vision (ie, the opportunity to architect a technical strategy that seamlessly aligns with business objectives).
Conclusion
The future for any type of technology leader is becoming increasingly challenging as we have explained in our recent post about what lies ahead for leadership in the technology sector.
Field CTOs, as a relatively new role in the world of technology leadership, have yet to discover what bumps may be awaiting them down the road.
That's why here at CTO Academy, we are continuously working to identify both challenges and opportunities and to educate and inform our members. Our Global Community of Tech Leaders is actively involved in daily discussions and problem-solving, helping each other in their day-to-day operations. All members have a unique opportunity to shadow seasoned CTOs and learn from them during live sessions and Expert Q&As.
A long time ago, we became aware that the only way to successfully overcome the hurdles is a peer-powered trust of brains and cumulative experience. Existing and future Field CTOs can greatly benefit from such a community because it removes much of the unknown from the equation. Because if you don't know that the obstacle exists, you will inevitably trip over.