A part-time CTO is a technology expert who works on a part-time or consulting basis for a company. The aim is to develop and implement the company's technology strategy and oversee all aspects of its technology operations and product development.
A part-time tech executive can bring the same expertise and guidance to a company as a full-time one but at a fraction of the cost.
They typically work with smaller companies or startups that don't have the budget or need a full-time position but still require technical guidance and expertise.
Lately, however, the term part-time is deprecated and instead, fractional CTO is more commonly in use.
Difference between a part-time, full-time, interim and virtual CTO
Part-time/fractional: Can have the same scope of work and responsibilities as the full-time tech leader or be hired for just a fraction of them but works temporarily either way.
Interim: A transitional technical leadership role; for example, when a CTO is on leave, the position becomes vacant or during a crisis and significant changes. An interim CTO is usually engaged over a defined period.
Virtual: A technology executive who provides CTO-level expertise and guidance to businesses remotely. A virtual CTO can be engaged on a part-time or fractional basis. Most commonly, a company hires a virtual CTO when there is someone in a CTO role but requires coaching from a more experienced tech executive. The coaching role may extend to other employees as well.
Learn more about fractional CTO services, and the role and responsibilities of fractional CTOs.
The advantages of part-time chief technology officers with industry-specific expertise
Firstly, they bring deep knowledge of the industry's technological landscape, allowing them to identify relevant solutions and stay abreast of emerging trends.
Their specialized experience enables them to understand industry-specific challenges and tailor technology strategies accordingly.
Their established network and understanding of industry best practices provide valuable insights and connections.
Their focused expertise helps optimize technology investments, drive innovation, and navigate regulatory compliance.
Overall, a part-time CTO with industry-specific expertise brings targeted insights, customized solutions, and a competitive edge to businesses, enabling them to leverage technology effectively and achieve their industry-specific goals.
When do companies look for part-time CTOs and how do they vet the candidates?
One of the main advantages for companies is cost savings, as part-time tech executives are typically less expensive than their full-time counterparts. (Though not necessarily on a per-hour costing.) Additionally, they can bring fresh perspectives and outside expertise to a business, helping to identify and implement innovative technology solutions.
However, the number one concern is that a part-time CTO may not have the same level of commitment or investment in the business as a full-time one. This could result in a lack of strategic planning or a lack of focus on long-term goals. At the same time, communication and coordination can be more challenging.
Therefore, when applying for this role, make sure to remove all of those doubts.
How do companies search for the right person for the part-time CTO position?
Their first step is usually identifying the specific skills and expertise that the business requires. To do so, they consider the technology challenges they are facing and the goals they want to achieve.
Once they have a clear idea of what they need, they start searching by leveraging their network, seeking referrals, and using online platforms and job boards.
The most common job interview questions:
Experience with the industry
Experience with the specific technology needs
Your availability
Your leadership and communication style
What are you going to do on Day 1?
What they want to ensure is that a candidate aligns with the company's values and culture. That being said, it can turn into a major advantage if you do your due diligence BEFORE you even apply just to see if you fit in.
TIP: in your application, address each of the aforementioned five questions.
Once a company filters out the most optimal candidate; say you, for instance, you'll start compensation negotiation but also learn about their expectations and deliverables.
To help you gain the role but also know that it is the right role for you, offer a couple of free hours to work with them – this can save a lot of heartaches later.
What could those expectations and deliverables be for startups?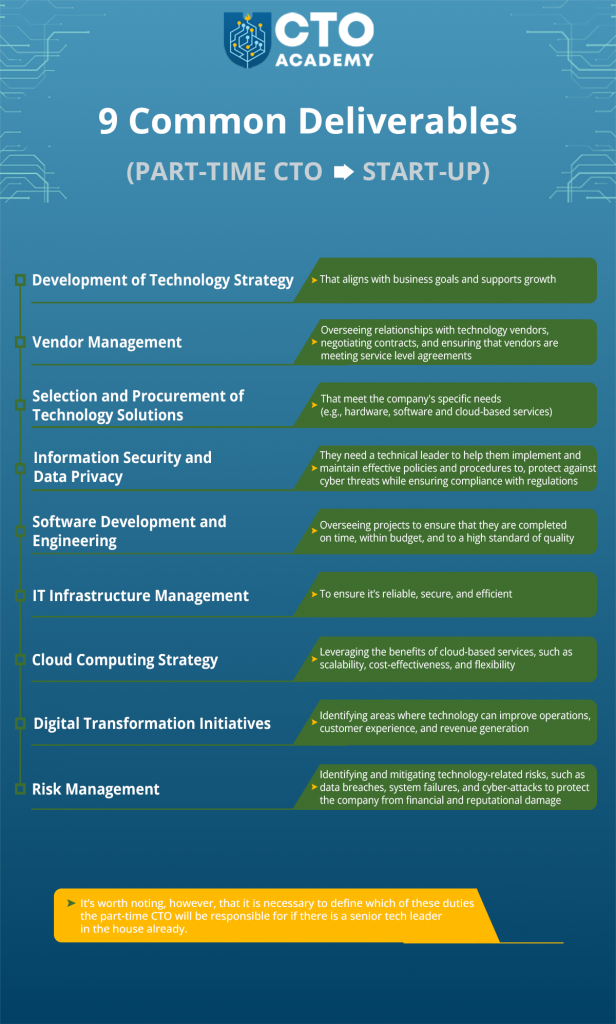 No company is perfect and almost certainly there will be some fires to put out, from realigning the roadmap, sorting out difficult team members and fixing quality issues to repairing relationships with the rest of the business.
1. Development of Technology Strategy (that aligns with business goals and supports growth).
2. Vendor Management (or overseeing relationships with technology vendors, negotiating contracts, and ensuring that vendors are meeting service level agreements).
3. Selection and Procurement of Technology Solutions that meet the company's specific needs (e.g., hardware, software and cloud-based services).
4. Information Security and Data Privacy (i.e., they need a technical leader to help them implement and maintain effective policies and procedures to, ultimately, protect against cyber threats while ensuring compliance with regulations).
5. Software Development and Engineering (i.e., overseeing projects to ensure that they are completed on time, within budget, and to a high standard of quality).
6. IT Infrastructure Management (to ensure it's reliable, secure, and efficient).
7. Cloud Computing Strategy (e.g., leveraging the benefits of cloud-based services, such as scalability, cost-effectiveness, and flexibility).
8. Digital Transformation Initiatives (e.g., identifying areas where technology can improve operations, customer experience, and revenue generation).
9. Risk Management (i.e., identifying and mitigating technology-related risks, such as data breaches, system failures, and cyber-attacks to protect the company from financial and reputational damage).
It's worth noting, however, that it is necessary to define which of these duties the part-time CTO will be responsible for if there is a senior tech leader in the house already. For instance, an experienced part-time CTO could take over commercial topics while coaching the in-house CTO who takes care of everything else related to the role.
What is expected of a part-time CTO in digital transformation initiatives?
You will collaborate with stakeholders to assess the current technology landscape, identify areas for improvement, and develop a comprehensive digital strategy.
The company will expect you to:
Lead the implementation of digital solutions.
Oversee technological changes.
Ensure alignment with business objectives.
Some of the goals and responsibilities they may set before you are:
Driving innovation.
Enhancing operational efficiency.
Enabling the organisation to adapt to the evolving digital landscape.
In the end, what they ultimately want is to foster growth and competitiveness in the digital era. And that's where a chief technology officer steps in.
Common misconceptions about a part-time CTO (that you must resolve)
Lacks commitment or dedication to the company's success.
May not have sufficient knowledge or expertise to handle complex technology challenges.
May struggle to integrate into the existing team or culture.
To properly address these concerns:
Establish open lines of communication.
Use case studies of your past work to prove your professionalism and ability to bring fresh perspectives and diverse experiences.
Prove that you are familiar with the company, its values and its goals.
How will they measure your success?
The methodology may include any of the following:
1. Goals (that align with your responsibilities and the overall business objective).
2. KPIs (e.g., cost savings, revenue growth, customer satisfaction, technology adoption rates or project success rates).
3. Project Outcomes Evaluation (e.g., project completion within budget and timeline, achieved objectives and overall impact on the business).
4. Performance Reviews (i.e., evaluation of contributions, skills and alignment with company goals followed by constructive feedback on areas that need improvement).
5. Technology Advancement Assessment (e.g., evaluation of the implementation of new technologies or processes and assessment of their effectiveness in improving efficiency, productivity, or innovation).
6. Stakeholder Satisfaction (e.g., feedback from executive leadership, team members or clients).
7. Cost-Efficiency Analyses (e.g., reduction in technology-related expenses, improved resource allocation or increased ROI in technology initiatives).
8. Team Dynamics Monitoring (e.g., the effectiveness of communication, leadership and mentoring capabilities).
9. Industry Recognition Review (e.g., awards, speaking engagements or thought leadership contributions).
10. Feedback Request (i.e., self-assessment of impact, challenges and recommendations for improvement).
How to negotiate compensation
At the moment, the head of tech in the United States receives around $170,000 or $74.00/hour. In the UK, on the other hand, the average salary is £96,080 plus a 12% bonus in the private sector or £75,950 and a 27,90% pension addition in the public one.
To effectively negotiate a satisfying compensation, follow these steps:
1. Define Role and Responsibilities (i.e., clearly outline the specific role, responsibilities and deliverables to ensure a shared understanding of the scope of work).
2. Research Market Rates (i.e., conduct thorough research to understand the market rates for CTOs with similar expertise and experience).
3. Consider Compensation Structure (i.e., determine whether the compensation will be based on an hourly rate, a monthly retainer or project-based fees).
4. Discuss Time Commitment (i.e., agree on the number of hours or days per week that you will dedicate to the business; clarify flexibility and availability for urgent matters or strategic planning sessions).
5. Discuss Payment Terms (i.e., define the payment frequency and any milestones or benchmarks that trigger compensation; in other words, establish a clear understanding of invoicing and payment processes).
6. Consider Equity or Performance-Based Incentives.
7. Discuss Growth Opportunities (i.e., potential opportunity to transition to a full-time role or take on additional responsibilities as the company expands).
How does an onboarding process work?
The company will set specific expectations and goals, as well as key performance indicators and deliverables.
The next thing is to schedule regular check-ins to review progress, discuss challenges and provide feedback.
By default, you should have access to the resources, tools and information, including relevant data and company policies.
The company will also expect that you align with its values and culture so that you can join the overall effort of promoting a sense of shared purpose and vision. Hence, to understand the company's unique perspective, introduce yourself with the context and background information about its history, goals and values.
They should also go through a so-called, transition plan with you that commonly include a knowledge transfer plan and transition of responsibilities to other team members. This is for the moment you leave the company. If they don't have a plan (e.g., start-up), feel free to make it. It will only add to your credibility and rapport-building process.
How to transition from a part-time to a full-time contract or in-house technology team?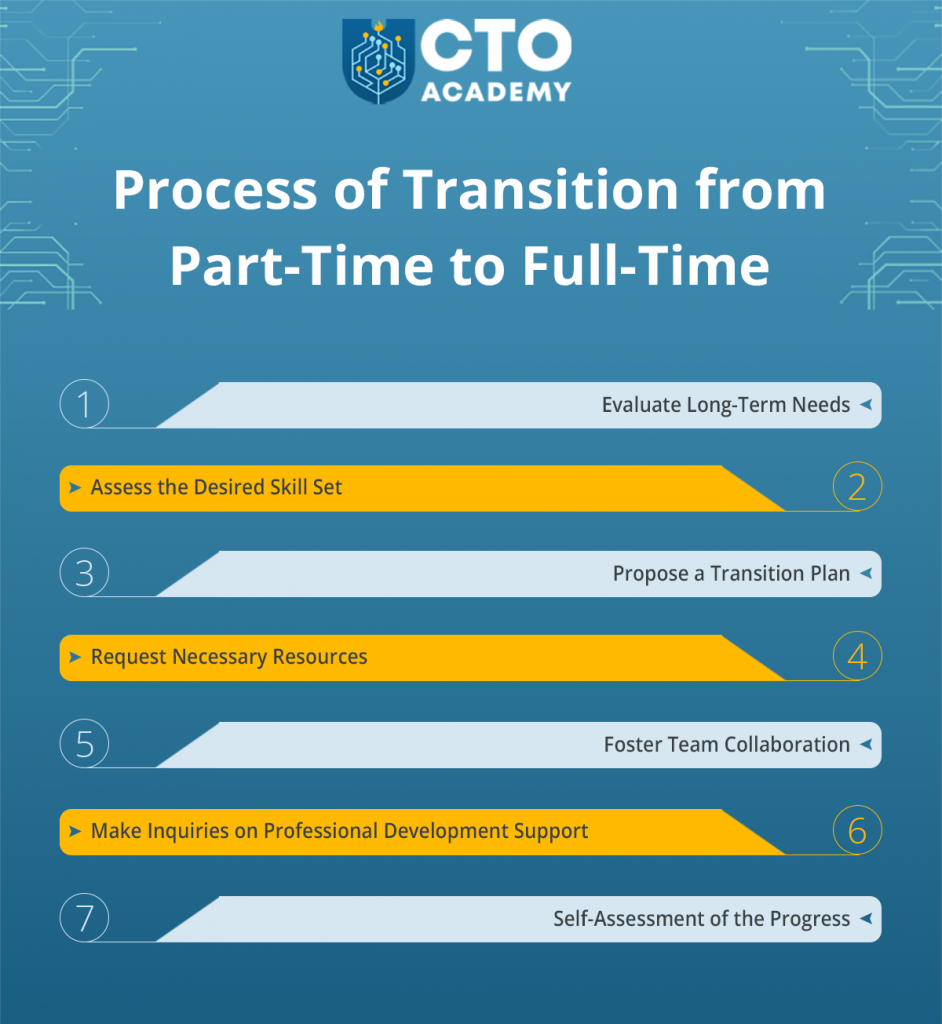 If you feel that the only way to ensure continuity, expertise and the company's ability to address the evolving technology needs is to transition to a full-time role, follow these steps:
1. Evaluate Long-Term Needs
Assess the company's growth trajectory, technological requirements, and the evolving role of technology in the business to determine if transitioning to a full-time contract or building an in-house team makes sense.
2. Assess the Desired Skill Set
Identify the specific skills, expertise, and leadership qualities the company is expecting from a full-time CTO.
3. Propose a Transition Plan
Collaborate with the CEO to develop a transition plan that ensures a smooth handover of responsibilities, knowledge transfer and seamless integration.
4. Request Necessary Resources
(Budget, infrastructure and support systems, to thrive in your new full-time role.)
5. Foster Team Collaboration
Maintain collaboration and communication with a team and other departments to foster integration, knowledge sharing and alignment with overall business goals.
6. Make Inquiries on Professional Development Support
See what opportunities for professional development, training and upskilling the company provides. Feel free to suggest resources if there aren't any.
7. Self-Assessment of the Progress
Evaluate the effectiveness and impact of the transition. Make necessary adjustments to fine-tune your performance.
How to position yourself to gain a competitive edge?
With the increasing demand for technical expertise, you now have a valuable opportunity to offer your expertise and leadership to businesses seeking flexible technology guidance. By showcasing your industry-specific knowledge, strategic mindset, and ability to drive technological advancements, you can position yourself as a sought-after professional in the evolving landscape of part-time technology leadership.
If, on the other hand, you have identified gaps in critical leadership skills, the best course of action is to seek mentorship. In other words, find experienced technology leaders who can act as mentors and provide guidance. Their insights and advice can help develop the necessary leadership skills.
Also, take advantage of professional development opportunities, such as workshops and courses or certifications, focused on leadership development. These programs provide the knowledge and tools to enhance leadership capabilities.
Finally, engage in networking activities within the technology industry. Building connections with other professionals can lead to valuable insights, shared experiences, and potential mentorship opportunities.
And we as a community of technology leaders are here to help you on that journey. The first step we recommend is to download our free e-book, "90 Things You Need to Know to Become an Effective CTO".
60+ pages of personal insight and coalface experience from CTOs and entrepreneurs. As Brian Cline, a CTO from Canada, testifies, "This book is spectacular and not the typical marketing fluff you normally get as a lead magnet!"
Enjoy!