A Fractional CTO is a chief technology officer who provides on-demand services to a company or organization. In other words, it is a freelance contract that implies working for a fraction of the time and cost and just on the part of the project as opposed to full- or part-time CTO positions.
This role can be performed remotely or on-site, depending on the company's needs. Lately, however, a growing number of professionals are seeking remote positions exclusively because they enable greater flexibility that radically improves the work-life balance.
What is the typical role and job description of a Fractional CTO?
In short, FCTOs are responsible for overseeing the organization's tech strategy, direction, and operations. They help companies with tech-related tasks such as:
Developing and implementing strategies
Managing IT operations
Overseeing product development
Managing vendor relationships
Evaluating and implementing new technologies
Providing leadership and mentorship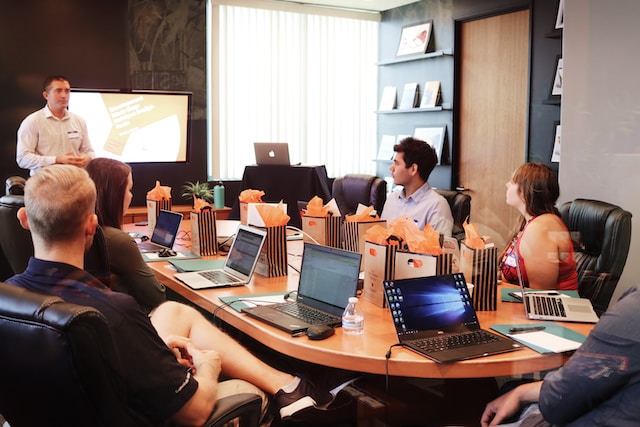 As an FCTO, you are bringing your expertise and experience to help companies:
Align their technological initiatives with their business goals and objectives
Optimize investments
Drive innovation
Common assignments of a Fractional CTO in day-to-day operations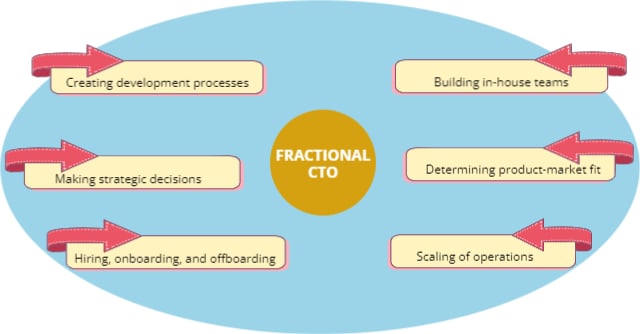 In our talks with tech leaders from all over the world these past few years, we have discovered that there are a few universal expectations from an FCTO:
Creating development processes (i.e., CI/CD implementation, testing, etc.)
Making strategic decisions
Developing and supervising hiring, onboarding, and offboarding processes
Building in-house teams during the company's transition from the outsourcing model (common for startups)
Discovering reliable and recurring revenue streams by determining product-market fit
Enabling scaling of operations relevant to products and features development
The two main external drivers of high demand for Fractional CTOs
Cost-effectiveness
Experienced chief technology officers may present a heavy burden on the, usually, limited startup budget. Additionally, the company may not have the need yet for a full-time CTO role.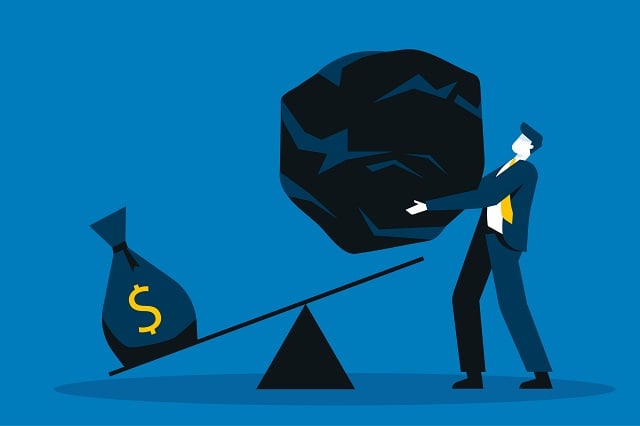 In these circumstances, hiring someone to work only 15-20 hours a week can be a win-win situation for both parties. On the one hand, you can charge more per hour than possible in a permanent contract. On the other, the total cost for the company is less than it would be for a traditional position.
Remote and hybrid working trend
The paradigm has changed. Work is not necessarily where we go anymore but what we do. That's one of the reasons why remote/hybrid working is quickly becoming the model of choice for not only a growing number of companies of all sizes but also seasoned professionals.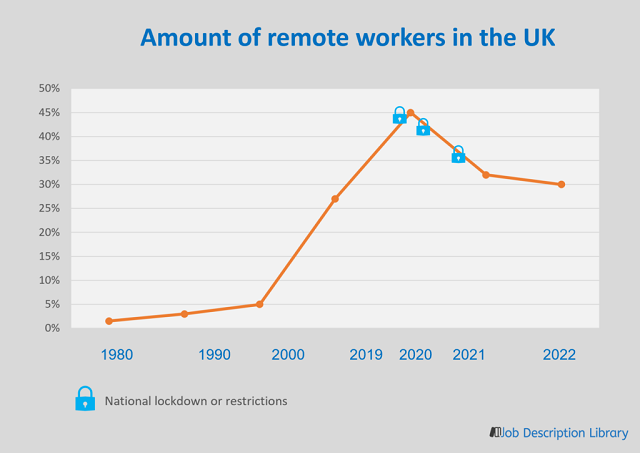 In such a scenario, organizations are removing geographical barriers and hiring talent from around the world at competitive prices. This, in turn, is allowing them to slice large projects into chunks and hire multiple fractional tech leaders to develop, oversee and manage individual road maps.
Top reasons why companies are looking for fractional CTO services
To put it bluntly, fractional CTOs are a) cost-effective, and b) represent immediate solutions for companies that require high-level tech management without the commitment and cost of an in-house employee.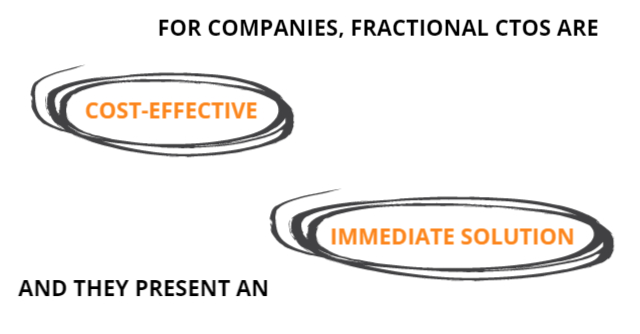 This, basically, means that FCTOs are primarily engaged by SMBs that do not have the resources or need for a more permanent role but still require strategic technology leadership and guidance. Lately, however, we have also seen large companies offering this specific position.
Reasons companies opt-in for fractional CTOs
The company is operating with a low budget and can't afford to pay, for instance, a $250K/year salary
Time is of the essence and they can't afford to bother with the lengthy process of onboarding a full-time CTO; therefore, they are looking for someone who can start immediately
They are looking to hire more than one tech leader for any number of reasons; most commonly due to the sudden expansion after a successful funding round
They have the vision of a product but lack the practical knowledge to build such a technology. In such a scenario, you work closely with other C-suite executives to bring the product and tech strategy to life
They have serious issues with the technology team either due to the unplanned departure of the previous leader or the team's inefficiency caused, for example, by quiet quitting
They are changing the outsourcing model in favour of an in-house team of engineers
They need technical leadership to aid with raising funds from VCs in which case, an FCTO is hired to review the architecture, development processes, disaster recovery, compliance policies, certifications, and other relevant parts of the operations and, ultimately, to ensure business continuity
The difference between an Interim CTO and a Fractional CTO
An ICTO is a temporary or transitional tech leader. For example, one can be appointed when the current tech leader is on leave or when a role suddenly becomes vacant. Another instance would be a crisis or significant change.
ICTOs are typically engaged for a defined period of time. They are responsible for managing the following:
The technology strategy
Operations
Team
The significant difference between the two is that an ICTO controls the helm while a fractional CTO is responsible for just one segment of navigation.
Additionally, an FCTO may operate on an ongoing basis while an ICTO is hired for a specific and relatively short period.
The average Fractional CTO rates and salary
According to the recent report by Reed, a headhunting agency that tracks salaries across industries in the UK, in 2023, a London-based tech leader working in a company with less than 1,000 employees, should earn £96,080 plus a 12% bonus in the private sector or £75,950 and 27,90% pension addition in the public sector.
Across the Atlantic, however, it is a bit of a different story. For instance, a head of tech working in a US-based company of the same size should average $170,000 in 2023 or $74.00/hour.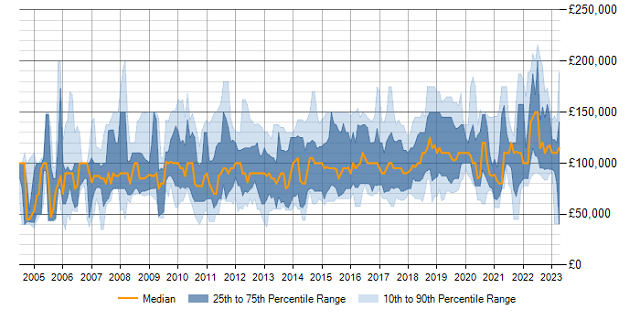 The rates depend on experience, education, certification, and other relevant factors such as the company's location and size; although, the last two are not necessarily the rule. A good example is the Idaho-based (US) software development company Corporate Tools, which pays tech leaders $172/hour.
PROs and CONs of the fractional tech leadership
As with every other contract type, there are advantages but also downsides to working as a fractional CTO.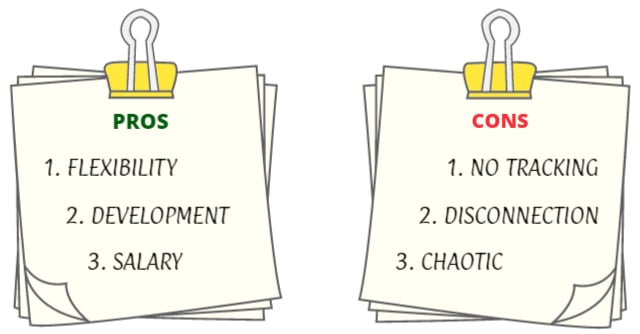 Pros
Flexibility in terms of location and time
Working in different industries and sectors; thus, developing professionally at a much faster pace
Compensation can be much higher than in full-year positions
Cons
It's hard to track the successes and end results of your work
Feeling disconnected from the company's culture (i.e., a lone wolf syndrome)
The pains of bringing order into chaos which is a common scenario in startups
Where to find job opportunities
For those without a network, the quickest way to find fractional CTO jobs is through job boards like: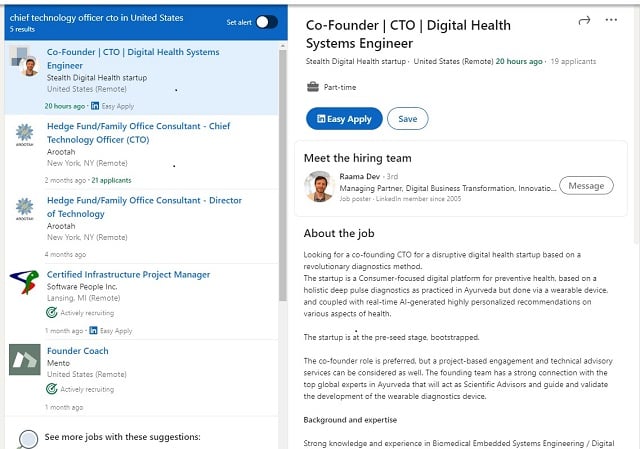 It is also wise to join CTO groups like ours here at the Academy and attend specialized events where you can participate in discussions and establish long-lasting relationships with your peers. In our experience, there is no better way to get a timely tip for a new job opening.
How to get hired
Having an industry-recognized certification makes this part a whole lot easier; all you have to do is send a cover letter to compete on a tender.
Remember, you are not alone and the only way to get that interview is to send an attention-grabbing cover letter.
How to write a winning cover letter
The first rule of cover letters is that it is not about you per se, but about the job and the company you are applying to. In other words, you want to explain in less than 250 words how your experience and expertise solve their problems. That's the only thing they want to hear.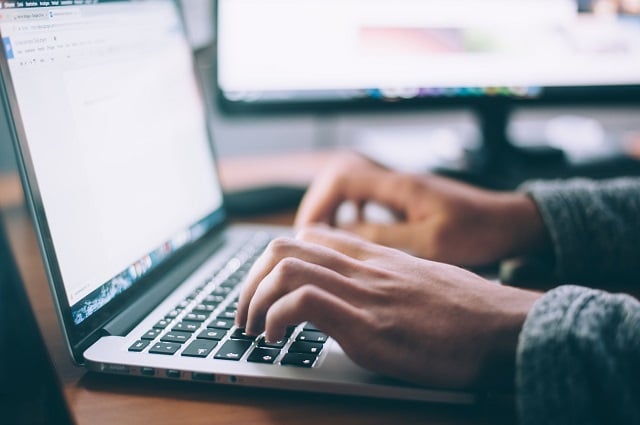 You should clearly demonstrate:
Complete understanding of the employer's needs and project's specific requests
Necessary experience and expertise to ultimately deliver what's expected of you
Here are a few additional cover letter tips:
Mention your most recent experience with similar projects early on (i.e., in the opening paragraph because that's what most platforms show to employers in snippets)
Showcase the accomplishments of that particular job next (i.e., how did your engagement there help that employer achieve desired goals)
Point to certain risks that only an experienced tech leader would be aware of to prove your expertise
Refrain from bragging and self-glorification and focus on the job's requirements
Briefly cite your experience in the very last paragraph
Conclusion
If you are favouring the flexibility of remote working; then offering your experience and expertise as a fractional CTO should be your top priority. The trends are showing that demand for this particular contract type is steady. And, with such a high number of emerging tech startups, it shouldn't be too hard to land your next job.
Finally, if having a CTO peer advisory group could be helpful in any way, book a free discovery call with our senior leadership to gain access to other tech leaders and their perspectives, and new job opportunities.