An Interim CTO is a temporary executive responsible for overseeing and guiding the company's technology strategy and operations during a transitional period. Companies hire interim CTOs on a short-term basis, either due to a sudden departure of the previous CTO, a planned leadership change or while searching for a full-time CTO.
(Don't mistake an Interim Chief Technology Officer for a Fractional CTO. A Fractional CTO works for a fraction of the time and cost and just on the part of the project. In other words, they work side by side with the in-house CTO to assist on certain projects or their fractions.)
The Primary Responsibilities of an Interim CTO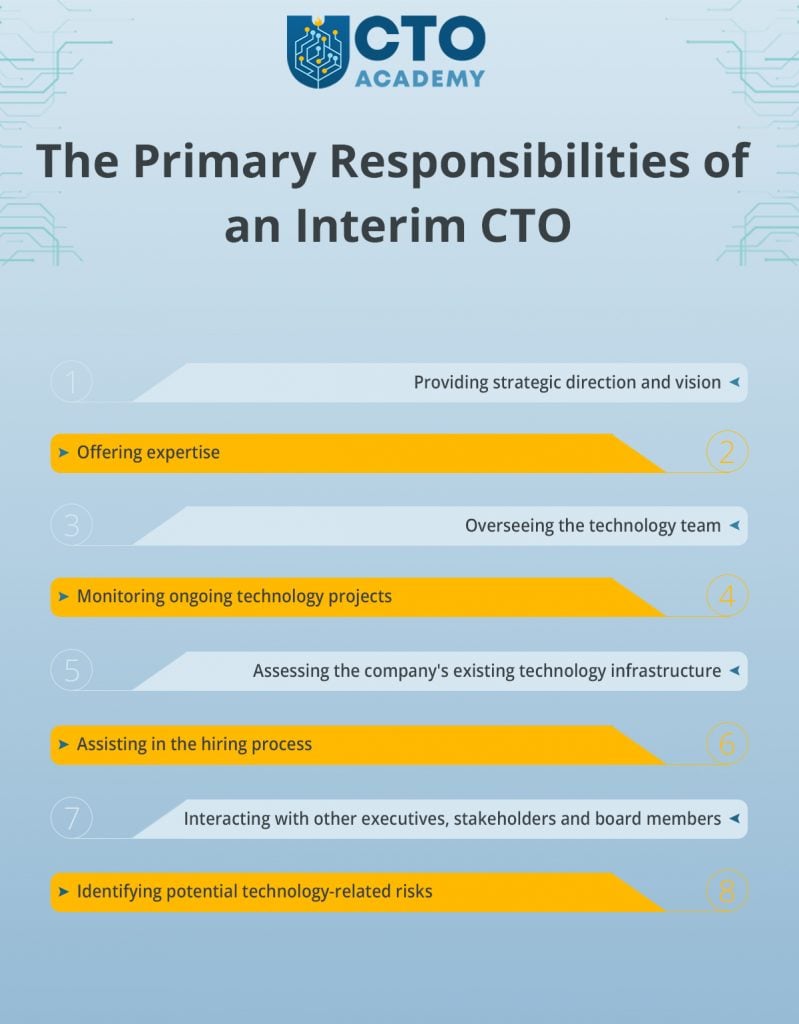 Providing strategic direction and vision for the company's technology initiatives while ensuring alignment with business goals during the transition period.

(This, however, may not be possible as they could be in for:
a) Keeping business as normal so no changes
b) Firefighting – no strategic direction required
c) Leave until a permanent CTO comes in)


Offering expertise in various technology domains and advising the company on the best use of technology to achieve its objectives.
Overseeing the technology team, ensuring their productivity and providing guidance and support to maintain smooth operations.
Monitoring ongoing technology projects and ensuring they stay on track, on time and within budget.
Assessing the company's existing technology infrastructure, systems and processes to identify areas for improvement.
Assisting in the hiring process when necessary for permanent technology leadership positions.
Interacting with other executives, stakeholders and board members to provide updates on the technology department's progress and challenges.
Identifying potential technology-related risks and implementing measures to mitigate them.
Interim CTOs must, therefore, possess extensive experience in technology leadership roles and have all the necessary skills to step into the position quickly and effectively. Their role is vital in maintaining continuity and ensuring the organisation's technology operations run smoothly while the company searches for a suitable permanent chief technology officer.
How Onboarding Process Works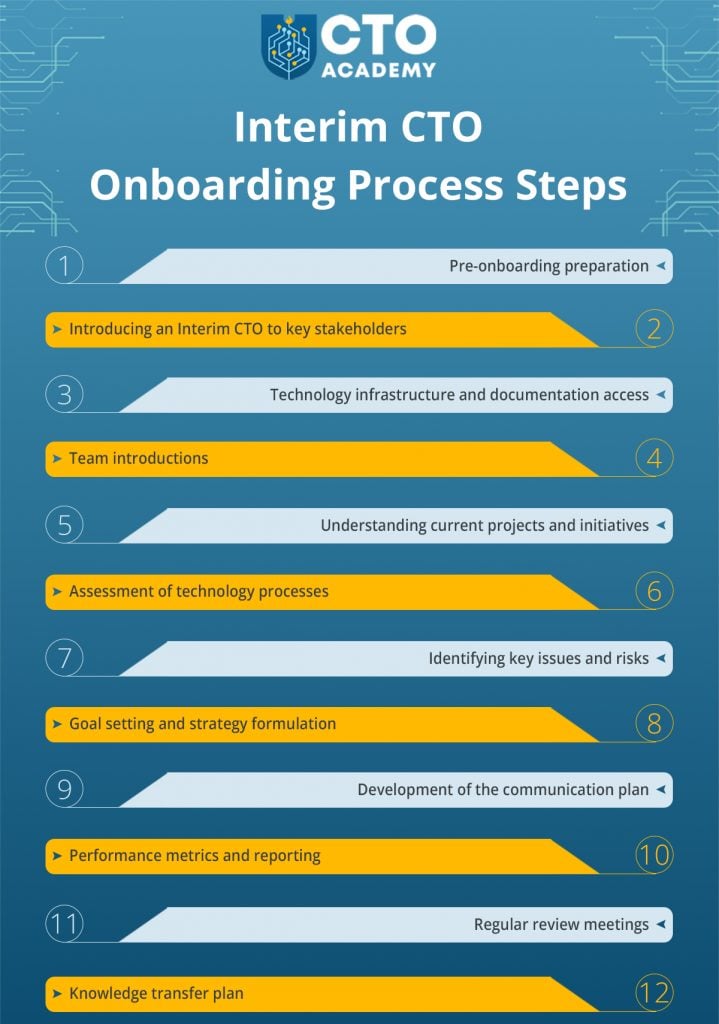 Step #1: Pre-onboarding preparation
Before the Interim CTO starts their role, HR and the hiring manager coordinate to ensure all necessary paperwork, contracts and confidentiality agreements are in place.
IT and facilities teams set up the Interim CTO's workspace, providing them with the necessary tools, equipment and access to company systems.
Step #2: Introducing an Interim CTO to key stakeholders
The Interim CTO should be introduced to key stakeholders, including the CEO, executive team, department heads and other relevant personnel. This, subsequently, helps establish rapport, clarify expectations and provide an overview of the organisation's structure and culture.
Step #3: Technology infrastructure and documentation access
The company enables access to documentation and information related to the technology infrastructure, systems and, more importantly, ongoing projects.
Reviewing this documentation provides insights into the existing technology setup, thus making it possible for a new technology leader to identify potential areas for improvement.
Step #4: Team introductions
The only way to understand the roles, strengths and concerns of the team is to meet them individually. This, in turn, builds a positive working relationship which is essential for collaboration and effective leadership. 
Step #5: Understanding current projects and initiatives
The company briefs the new CTO on all ongoing technology projects and initiatives. These briefs must include objectives, progress and challenges. This will allow a newly appointed interim executive to align the efforts with immediate goals.
Step #6: Assessment of technology processes
The ICTO must assess existing technology processes and workflows to identify any bottlenecks or inefficiencies. This is a prerequisite for the formulation of strategies for streamlining operations.
Step #7: Identifying key issues and risks
Companies often seek a remote interim CTO when they require a technology expert to swiftly stabilise their technological environment. 
To achieve that goal, the temporary chief technology officer will work closely with the team to identify critical technology issues, security risks or compliance concerns requiring immediate attention.
Step #8: Goal setting and strategy formulation
The goals and strategy formulation are based on the organisation's objectives and challenges. This, of course, requires close collaboration with the executive team because the strategy must align with the company's overall business objectives.
Step #9: Development of the communication plan
The aim here is to develop a practical communication plan to ensure regular updates with the CEO, the rest of the executive team and other stakeholders. This can be done by the newly appointed temporary CTO alone or as a collaboration between all stakeholders.
Step #10: Performance metrics and reporting
Fast-growth companies may lack the necessary experience in tracking performance or setting up the metrics for this particular position.
Always keep in mind that, in some instances, the fast-growing company was a startup only a few months ago.
Hence, it's a CTO's job to work with an organisation to define performance metrics and reporting requirements; otherwise, it would be virtually impossible for the organisation to track progress and, most importantly, measure the impact of technology initiatives.
Step #11: Regular review meetings
To effectively define and tackle challenges, it is essential to regularly convene with the team and engage in discussions regarding their progress.
Step #12: Knowledge transfer plan (if applicable)
If there is a plan to hire a permanent CTO, a knowledge transfer plan must be implemented to facilitate a smooth transition.
To sum up, the onboarding process should be structured, comprehensive and, more importantly, focused on aligning the individual with the organisation's goals while addressing immediate technology challenges.
No company is perfect and people and process issues will arise from this onboarding. The interim CTO will have to decide, if and when, to resolve these issues and, at least, highlight them to the CEO.
The Duration of an Interim CTO Position in Fast-Growth Companies
The duration can vary depending on:
Specific needs of the company
The scope of the technology projects
The availability of suitable candidates for a permanent CTO role.
On average, an Interim CTO position can last anywhere from 6 to 12 months in such companies. But this is relative and depends on a series of factors such as:
Recruitment Process. The duration of the search for a permanent CTO can affect the length of the Interim CTO's role. If it takes longer to find the right candidate, the Interim CTO may need to stay in the position for an extended period.
Onboarding and Transition. The time required to onboard a new permanent CTO and facilitate a smooth transition of responsibilities can impact the interim tenure. In other words, if the onboarding process takes longer, the Interim CTO may need to stay in the role until the new CTO is fully integrated.
Performance and Results. When interim CTOs demonstrate exceptional performance and deliver significant results during their tenure, companies may consider extending their contract or offering them the permanent CTO position.
Business Conditions. The overall business environment and the company's growth trajectory play a significant role. For example, if the company continues to experience rapid growth and expansion, the Interim CTO's role may be extended to address new technology challenges.
As you can see, the actual duration of the interim contract depends on the unique circumstances and requirements of an organisation. Additionally, it may easily evolve into a permanent position.
But if that doesn't happen, there's one further instance you must prepare for.
The Process of Power Transfer to the New Permanent CTO
Knowledge Transfer and Documentation
It is in your best interest to jump-start the new CTO, so to speak, because word travels fast and covers long distances—both good and bad.
Therefore:
Document all critical information related to the company's technology infrastructure, ongoing projects, systems and processes. This documentation will serve as a reference guide for the incoming CTO.
Arrange the so-called knowledge transfer meetings to share insights, challenges and best practices with the new CTO.
Status and Project Updates
Provide comprehensive status updates on all ongoing technology projects, highlighting their progress, challenges and timelines. These updates will help the new CTO quickly get up to speed with the technology landscape and any potential issues that need attention.
Team Introductions and Transition
Introduce the new CTO to the technology team members to facilitate a smooth transition of leadership.
During this introduction, discuss individual roles, responsibilities and team dynamics to help the new CTO integrate seamlessly.
Stakeholder Engagement
Introduce the new CTO to key stakeholders (eg, other executives, department heads and board members).
Understanding the expectations and priorities of various stakeholders will help the new CTO align technology strategies with overall business goals – just as it helped you.
Establishing Relationships and Communication Channels
Facilitate initial meetings between the new CTO and other department heads to establish open lines of communication.
Regular communication channels should be set up to ensure ongoing collaboration and feedback between the new CTO and other departments.
Handover of Responsibilities
The ICTO formally hands over specific responsibilities, such as project ownership, vendor relationships and budgetary control to the new CTO. It is a detailed process that ensures nothing falls through the cracks during the transition.
Support and Availability
The ICTO should remain available for a defined period after the new CTO assumes the position. This is a common practice because the new CTO often requires some additional guidance and support.
This type of support has proved itself instrumental in addressing unexpected challenges and fostering a successful transition.
Assessment and Feedback
Both the Interim and the new CTO conduct periodic assessments of the transition process to identify areas of improvement.
Gathering feedback from team members and stakeholders also provides valuable insights for refining the transition approach.
Key Points
Temporary Leadership Role – a short-term contract, typically during leadership transitions, planned absences or while searching for a permanent CTO.
Experienced Professionals – interim CTOs are commonly seasoned technology leaders with extensive expertise in various domains.
Strategic Direction – providing strategic direction for technology initiatives and aligning them with the organisation's business objectives.
Project Oversight – overseeing ongoing technology projects, ensuring they stay on track and deliver results.
Team Management – fostering collaboration and ensuring productivity.
Knowledge Transfer – documenting critical information and facilitating knowledge transfer to the incoming permanent CTO, when applicable.
Communication and Stakeholder Engagement – effective communication and collaboration with key stakeholders, including other executives and department heads.
Risk Management – identifying potential technology-related risks and working to mitigate them to ensure smooth operations.
Tenure Duration – can vary, but on average, it is often between 6 to 12 months in fast-growth companies.