A deputy CTO is a senior executive responsible for assisting the Chief Technology Officer in managing and implementing technology strategies.
It is a common denominator among an array of executive roles, such as Head of Engineering, VP of Development, Chief Technology Architect, CDO, CISO and similar positions, effectively describing a second-in-command, the first being the CTO, of course.
What is a deputy CTO job description?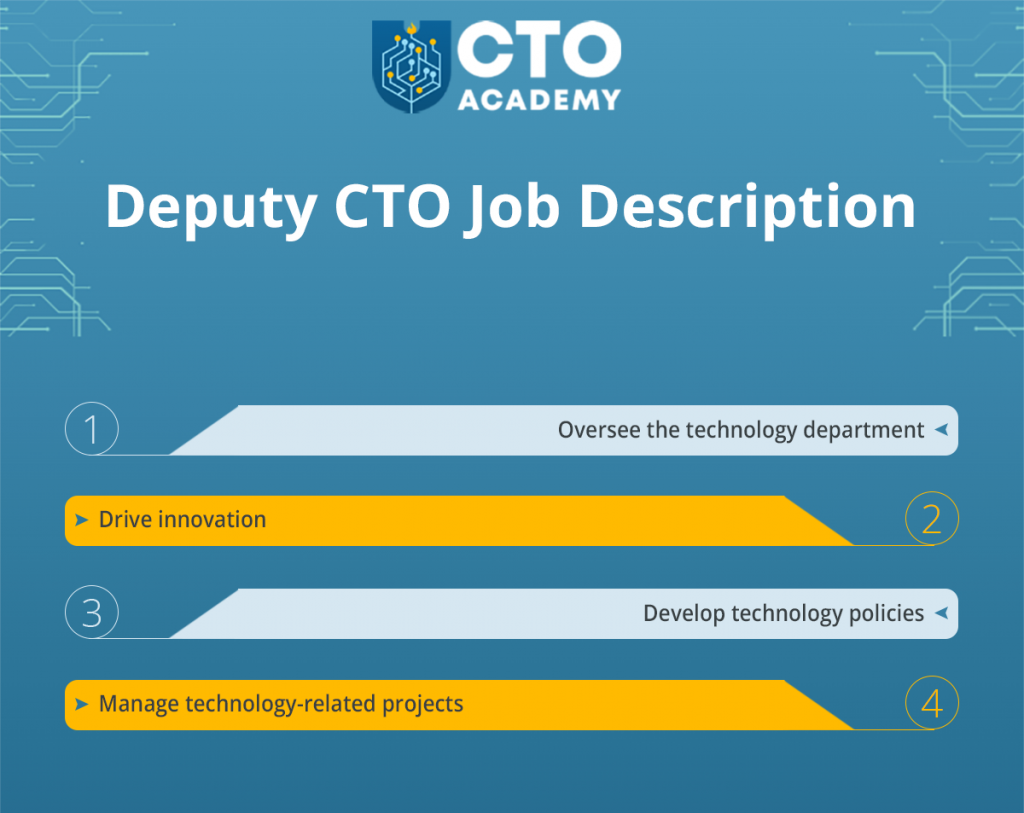 While responsibilities vary depending on the organization, generally speaking, a deputy chief::
Oversees the technology department
Drives innovation
Develops technology policies 
Manages technology-related projects
So what differentiates a deputy from a full-time technology leader?
The primary difference lies in their level of authority and responsibility.
A deputy, as the name suggests, typically serves as the second-in-command and assists in carrying out the chief's vision and goals. Deputies may have direct oversight of specific areas or projects within the technology department. It is an inward-looking role that works with the team on build, delivery and process. The CTO role, on the other hand, is outward-looking, customer- and stakeholder-facing and more strategic.
(Don't mistake a deputy CTO for an interim CTO. As we briefly explained in the article on fractional CTOs, an interim CTO is a temporary position. A company will hire an interim tech leader when there is a vacancy in the CTO role or during a transitional period.)
Is it more common for a software engineer to progress to the role of a deputy or directly to a full-time CTO?
As a rule of thumb, it is generally more common to progress to the deputy role rather than directly becoming a full-time tech leader.
Alex Gaynor, a software resilience engineer, for example, recently became a deputy CTO in the US. Federal Trading Commission's newly formed Office of Technology.
The deputy CTO role often serves as a stepping stone to the full-time CTO position.
The reason for this is simple. The full-time CTO position typically requires a much broader set of skills and experience beyond technical expertise alone. It often involves strategic planning, business acumen, leadership abilities and a deep understanding of how technology aligns with the organisation's overall goals.
While software engineers possess strong technical skills, they have to develop and demonstrate proficiency in these other areas before being considered for a full-time role.
By starting as a software engineer and progressing to a deputy role, you have the opportunity to gain leadership experience, expand your knowledge beyond technical domains and develop the necessary skills to take on the responsibilities of a full-time technology leader. Subsequently, this progression allows you to prove your capabilities, build a track record of successful technology leadership and gain the trust and support of the organisation.
There can be exceptions, of course. Software engineers with outstanding leadership abilities and extensive industry experience, who have gone through certified CTO training programs, may be considered directly for full-time CTO positions.
How common is the deputy role in start-ups and fast-growth companies?
It depends on the size, organisational structure and specific needs of the company.
In smaller start-ups, for example, where resources may be limited and the technology team is relatively small, the role may not be as common. Instead, it's the CTO or a small leadership team that directly oversees the technology department. In other words, the CTO assumes a more hands-on role, managing both strategic and operational aspects of technology.
However…
As start-ups and fast-growth companies scale, their technology needs become more complex. Hence, the demand for additional leadership support.
Some start-ups may therefore introduce the deputy position (as mentioned above, this might fall under another job title) to assist the CTO in managing the expanding technology initiatives, overseeing multiple teams or projects and aligning technology strategy with business goals. Most commonly, the deputy helps bridge the gap between the CTO and the rest of the technology organisation.
The prevalence of this job position in start-up and fast-growth companies can also depend on the industry and the company's focus on technology. Technology-intensive companies, for instance, such as those in the software development, AI or cybersecurity sectors, may be more likely to assign a deputy to their technology leaders. An additional pair of capable hands may simply be necessary to handle the growing technical complexities.
Moving from the software engineering position to the deputy role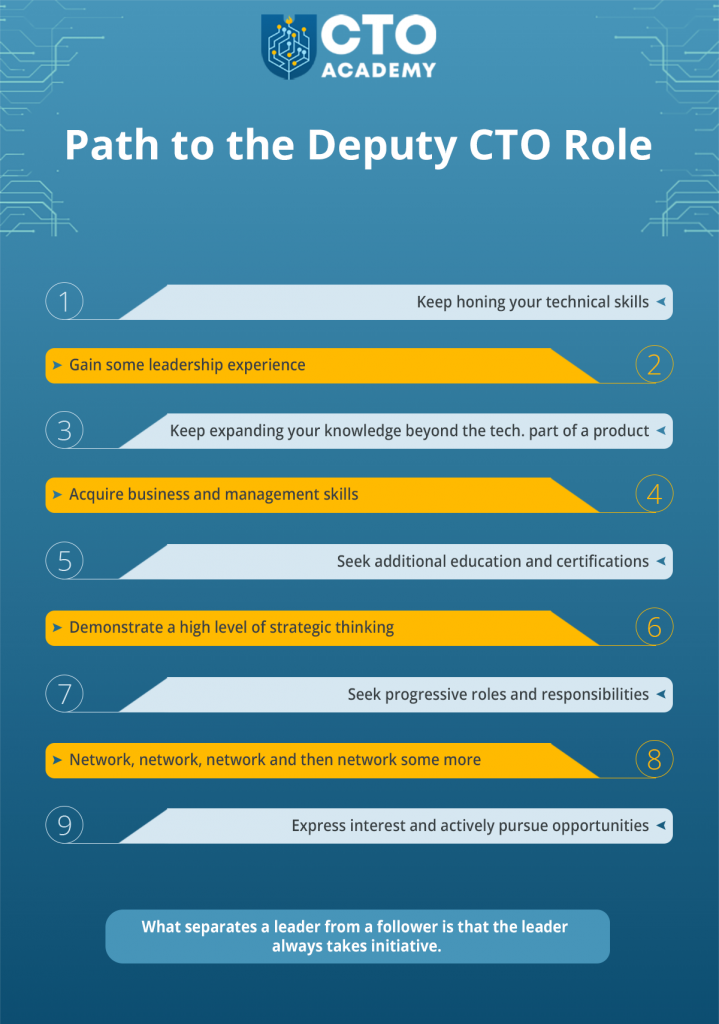 This transition typically requires a combination of technical expertise, leadership skills and strategic thinking abilities. Assuming that you are equipped with all of those, this is the path you should be walking if you are currently employed as a software engineer but with eyes on a leadership role:
#1 – Keep honing your technical skills
In other words, stay updated with the latest technologies, programming languages and frameworks relevant to your field. Your immediate aim is to become an expert in your area of specialisation and gain hands-on experience in a variety of technology projects. This is also known as a T-shaped skillset; broad across tech, but expert in one or two areas.
Why?
As we explained in our most recent post on what makes a good technology leader, you do not want to end up in a situation where you must rely on people under you or a third-party consultant to solve some technical problem.
#2 – Gain some leadership experience
Seek opportunities to take on leadership responsibilities within your team or organisation. This could involve mentoring junior team members, leading small projects or coordinating cross-functional teams.
The point is to demonstrate the ability to guide and motivate others, communicate effectively and solve complex technical challenges.
#3 – Keep expanding your knowledge base beyond the technical part of the product
In other words, develop a broader understanding of technology beyond your specific domain and its impact on society, target market, industry and the company. You can achieve that by staying informed about industry trends, emerging technologies and best practices.
In turn, this knowledge will help you contribute to strategic technology decision-making – a key thing the board expects from you!
As a leader, you must perceive the product through both the customer's and the company's prisms. The product stops being just a skilful convergence of parts and lines of code. Instead, it becomes a foundation of long-term strategic and tactical decisions that directly impact the well-being of the company.
#4 – Acquire business and management skills
Again, seek opportunities to gain exposure to business operations, financial planning, project management and team management. Collaborate with colleagues from different departments and learn how technology aligns with overall business objectives.
Remember, the higher you climb up the corporate ladder, the less time you will be spending on coding.
#5 – Seek additional education and certifications
Can you drive a car without a license?
Advanced education or certifications that complement your technical expertise puts you in front of the competition. This could include a Digital MBA for Technology Leaders or, at the very least, some lighter relevant technology management programs.
These qualifications enhance your credibility and provide a broader perspective on technology leadership — two things you'll need in the job interview, by the way.
#6 – Demonstrate a high level of strategic thinking whenever there's a chance
First, start thinking beyond day-to-day technical tasks and focus on understanding the strategic goals of your organisation.
Then, look for opportunities to contribute ideas that align technology initiatives with the overall business strategy. For example, propose innovative solutions, identify cost-saving measures or — and this could be a deal-maker — improve efficiency through technology.
#7 – Seek progressive roles and responsibilities
Once you gain experience and demonstrate leadership capabilities, aim for roles with increasing responsibility and visibility. This might involve moving into managerial positions, such as a development team lead or technology project manager.
You can do that by actively seeking opportunities to:
Lead larger projects
Collaborate with cross-functional teams
Make decisions that impact technology direction
#8 – Network, network, network and then network some more
In other words, build strong and, more importantly, relevant relationships. Conferences, associations and online communities such as ours here at CTO Academy that gather technology leaders from all over the world, can provide valuable connections, mentorship opportunities and insights into industry trends.
Building relationships within your organisation is also important because it helps you gain visibility and open doors to new opportunities.
#9 – Express interest and actively pursue opportunities
What separates a leader from a follower is that the leader always takes initiative.
Once you have built a strong foundation of technical expertise, leadership skills and business acumen, express your interest in a deputy role to your superiors or human resources department. Alternatively, consider applying for positions externally. If possible, search for those that align with your career aspirations.
What do you stand to gain in this position?
How does the role of a deputy prepare you for the ultimate step – to become a full-time tech leader?
Collaborative leadership experience — The role often involves close collaboration with other C-suite executives, which enables you to develop the ability to work effectively across different departments and bridge the gap between technology and other areas of the organisation.
Exposure to strategic planning and road mapping — Provides a deep understanding of the importance of aligning technology initiatives with the company's vision, anticipating future needs and building scalable technology infrastructure.
Change management and transformation practice — This can include implementing new systems, processes or methodologies, such as Agile or DevOps, and ensuring smooth adoption and integration across teams.
Risk management and compliance processes — Gaining insight and, thus, developing a thorough understanding of cybersecurity, data privacy and regulatory requirements in the industry. Additionally, you become knowledgeable about risk mitigation strategies, implementing security measures and building a culture of compliance within the technology department.
Vendor and stakeholder management — This enables you to develop skills in building strategic partnerships, leveraging external expertise and ensuring effective collaboration between internal and external teams.
Executive communication and reporting — Presenting complex technical information clearly and concisely to C-level executives and board members (eg, technology initiatives, progress and challenges to gain support and resources for strategic initiatives).
And this is just a glimpse into the additional knowledge and skills you will acquire as a second-in-command. And since you'll start demonstrating the expanded responsibilities, strategic focus and cross-functional collaboration skills, the board will soon start considering you for a full-time CTO role.
Now, let's assume that you are a team leader who used to work as a software engineer in that same team and now there's an opening for the role of a deputy and you want the job. How should you proceed?
What is your best course of action to beat the competition and get that job?
To increase your chances, here are some steps you can take:
Understand the role 

Gain a comprehensive understanding of the responsibilities and expectations in the context of your organisation (and industry). 
Identify the specific skills, qualifications and experiences desired for the position.

Self-assess -— Evaluate your skills, experiences and strengths that align with the role. Gauge your technical expertise, leadership abilities, strategic thinking and business acumen to identify areas where you may need to develop further and create a plan to address any gaps.
Demonstrate leadership skills and tendencies
Expand your knowledge — Broaden your understanding of technology leadership by seeking out learning opportunities such as online courses and certifications. CTO Academy, for instance, is home to an introductory course to some of the leadership skills and mindset required in senior technology roles. Nine modules with >100 micro lectures enable you to understand more about the role and responsibilities of a modern CTO.
Network and seek support

Build relationships with key stakeholders who can support your candidacy. 
Don't be afraid to seek their advice and, by all means, ask for their support or recommendations.

Communicate your interest

Express your interest in the deputy CTO position to your superiors or the appropriate decision-makers within your organisation. 
Request a meeting or set up a conversation to discuss your aspirations. 
Explain why you believe you are well-suited for the role by articulating your vision for the technology department and how you can contribute to the organisation's success.

Showcase your achievements

Prepare a compelling case that highlights your achievements, both as a software engineer and as a team leader. 
Quantify your impact by highlighting successful projects, cost savings, process improvements or other tangible results. 
Emphasise how your contributions have demonstrated your ability to handle the responsibilities of a deputy tech leader.

Continuously invest in your professional development — We are talking business strategy, project management and leadership training. This shows your commitment to growth and your dedication to being a well-rounded technology leader.
Prepare for interviews

Anticipate potential questions. 
Practise articulating your technical expertise, leadership style, strategic thinking and ability to align technology initiatives with business objectives. 
Prepare examples that demonstrate your problem-solving abilities, adaptability and communication skills.

Differentiate yourself

Using our Skills Assessment Test, identify unique strengths or experiences that set you apart from other candidates. It will help you gauge and benchmark your current strengths and weaknesses against the hundreds of global tech leaders who've already completed the process. 
Highlight any domain expertise, industry knowledge or specific accomplishments that make you uniquely qualified for the job.
Conclusion
Remember, competition for leadership positions can be fierce. It's, therefore, important to present yourself as a well-rounded candidate. Showcase both technical expertise and strong leadership qualities.
If your job title is Head of Engineering, VP of Development, Chief Technology Architect, CDO, CISO or similar, then effectively you are deputy CTO and your next step could well be CTO.
Here, at CTO Academy, we have a nuanced understanding of the challenges faced by senior technology leaders. And we also understand how coaching can play a crucial role in negotiating immediate challenges and executing that long-term career roadmap.
So, before you leave, take a look at our Digital MBA for Technology Leaders. The 360º business course, built specifically for technology leaders who want to align their technical capabilities with high-impact leadership skills. It is a certified program that has helped transform the careers of hundreds of global tech leaders so far. It may easily be a couple of minutes that change your life and put your career on a certain growth trajectory.